¡Lo espantaste!* my mother says as we
approach the bushes of cruz de marta**.
It's summer. A profusion of red blossoms
create a red crown above the leaves.

The hummingbird had been hovering
above the blossoms of the cruz de marta
bushes as we moved from the back
of the house to the side garden when
my mother pointed it out to me.

I startled it away when I rushed
to turn on the camera, hoping
to snap the picture of the hummingbird
flying in such proximity—not considering
how the sudden movement of my arms
would affect the moment.

The blur of shimmering emerald
so difficult to keep in focus—
constant motion—a gift that must
be taken whole before it vanishes.

Next morning, I stood near the bushes,
hoping to notice any imperceptible
movement that might indicate
the presence of a hummingbird.

I inspected the highest branches—
completely covered by red, tiny
blossoms like a connect-the-dots
picture. You must connect each blossom
to the next in order to get the whole picture.

A glimmering flash of emerald appears
between the shadows of two adjacent leaves.
I snap picture after picture.
The abundance of red, tiny flowers
is now documented for posterity.

The hummingbird will remain a fleeting
emerald sparkle I will chase after
for the rest of my life.

*"You scared it away!"
**In the same Rubiaceae family as ixora


© by Nydia Rojas.
Used with the author's permission.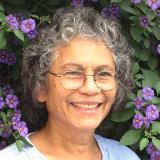 Nydia Rojas divides her time between writing poetry and working in her garden. "Somehow," she says, "each activity inspires the other, and each season I look forward to lots of beautiful blossoms  and new topics on which to base my poems." Nydia is the author of one chapbook, Stealing Daylight, and lives in Middleton, Wisconsin.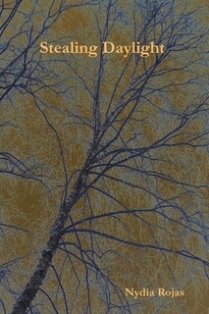 Anastasia:
Beautiful images! Thank you, Nydia!
Posted 05/17/2021 01:16 PM
Lori Levy:
Like the contrast of the green of the hummingbird against the red blossoms.
Posted 05/13/2021 07:13 PM
Adriana:
Verse four is a whole lovely poem by itself.
Posted 05/13/2021 06:18 PM
Janet Leahy:
I chase them too , that "fleeting emerald sparkle." Thank you for a lovely poem.
Posted 05/13/2021 01:24 PM
michael escoubas:
Full of action, sound and color . . . great poem for a gorgeous spring day!
Posted 05/13/2021 08:54 AM
Darrell Arnold:
Hummingbirds are my favorite harbingers of spring, and I hate to see them leave in the fall. They have been a part of every home I've lived in. We encourage them to live beside us, and their magical beauty is always commented on by our visitors, be they guests or family. They can't prevent a bad day, but they can sure brighten one up.
Posted 05/13/2021 08:31 AM