†
Beginning with two lines by Christian Wiman

Barefoot careless in the farthest parts of the yard
children become their cries
†of surprise and pleasure as they run
and twirl in cooling air.
The winged flickering lights they chase
cast scant light on their faces.
Dew begins to wet the lawn; the children
sprawl on ground smelling of clover.
They revel in the gifts of night: cricket song,
starlight, the whispered secrets
of sisters, brothers and cousins.
Dusk envelops them like a motherís arms.


© by Wilda Morris.
Used with the authorís permission.
†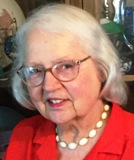 Wilda Morris is the author of two poetry collections and two nonfiction books. Fond of walks in the woods, along shorelines or riverbanks, or through towns and cities, she especially enjoys walking with a grandchild or great-grandchild, seeing things through their eyes. Wilda, who lives in the Chicago suburbs, also loves to travel—whether to places she has never been or to those that have become almost like home due to repeated visits. Learn more about her at http://wildamorris.blogspot.com/.
Lori Levy:
Beautifully expressed.
Posted 05/22/2021 08:53 PM
Carebear10:
Nice personification at the end. Wonderful poem! Caroline
Posted 05/22/2021 08:17 PM
TheSilverOne:
This brings back wonderful memories of my childhood, and then, my own children's childhoods. Beautiful, Wilda ~ Doris
Posted 05/22/2021 07:58 PM
Adriana:
I always wondered why I love dusk so much. You brought back lovely childhood firefly-chasing memories...
Posted 05/22/2021 02:04 PM
CamilleBalla:
I like the whispered secrets of..... Nice to catch memories in words.
Posted 05/22/2021 11:56 AM
peninsulapoet:
lovely
Posted 05/22/2021 11:31 AM
michael escoubas:
Delightful scene painted with words; full of sounds, aromas and laughter. What a way to begin my day . . . thank you Wilda!
Posted 05/22/2021 10:31 AM
KevinArnold:
I don't know the Wiman poem but I doubt he continued on with such hoope. Fun.
Posted 05/22/2021 09:50 AM
Janet Leahy:
This poem brings back many cherished memories of summer evenings. "They revel in the gifts of night" is a beautiful phrase, and I agree with Bob, that closing line is perfect. So good to read your work Wilda, all the best to you.
Posted 05/22/2021 09:36 AM
Rob:
Great closing simile!
Posted 05/22/2021 06:23 AM