Morning sun glistens off backs
of black cows bending to graze
on green clover, steam
glowing from nostrils like halos
of unsuspecting angels.

Exuberant Swallows dive
beneath, above, around, through
the bridge on Highway 3,
morning sun shadowing
their concrete playground.

These gifts, these blissful days
when a traveler remembers
being 18, graduating
and all the roads looked bright,
beckoned adventure.

In time all roads curve
into themselves, into the center
of being, but that is not
your concern now. Today
you must follow

every path you cross, search
every metaphor like a child
chasing daisies in the field
next door. Every day
is a poem and every poem

reveals a world of hope,
layer upon layer of truth
immersed in beauty, streams
in the hills, sunrise
on the prairies, sandy coasts,

jagged calico rocks, every
green tree, every wild
rose, indeed the spectrum
of every colored flower greets
your discovery, awaits

the courage of recognition,
the test of honesty.
Any place you go, goodness
has already been there –
It is but yours to flourish.

From Sunlight & Cedar (Chicago: VACPoetry, Hedgehog Press, 2020)
Used here with permission.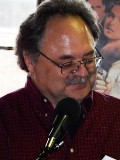 Ken Hada is a professor at East Central University in Ada, Oklahoma. Author of eight books, the latest being Sunlight & Cedar, he was raised in the rural Ozarks and enjoys hiking, flyfishing, and kayaking. Ken's work has received awards from Western Writers of America, the National Western Heritage Museum, The Writer's Almanac, and the Oklahoma Center for the Book. He hosts a weekly podcast, "The Sunday Poems." Learn more about Ken at www.kenhada.org.
Connye:
What a fine use of prepositions all in a row (stanza 2) and what a fine nod to a bright future.
Posted 05/30/2021 11:40 AM
Adriana:
The whole poem is beautiful. I particularly like the title, the fourth verse, and the ending. Starting with the fourth verse, each verse running into the next compels the reader to move forward with increasing anticipation, and creates a seamless whole. I felt as if I were the one seeing all those wonderful sights right in the moment of reading...
Posted 05/28/2021 11:35 PM
TheSilverOne:
Read and re-read this poem, to experience the depth and beauty.
Posted 05/28/2021 06:23 PM
KevinArnold:
So positivewe could all use that.
Posted 05/28/2021 12:45 PM
Janet Leahy:
So much offered in this poem, I've never thought of the cow's breath as halos, but I will now. Love the perspective that any place you go "goodness has already been there," and the "test of honesty,the courage of recognition," our world today needs this poem. Thank you.
Posted 05/28/2021 10:48 AM
wordartdjc:
This is a beautiful poem of hope and the great power of expectancy. I have only one additional wish. These young persons graduating now must brave a very different new world that we had at our graduation. May life be kind and their problems few.
Posted 05/28/2021 09:32 AM
Larry Schug:
Give me back my breath, Ken! Beautiful, wonderful, hopeful.
Posted 05/28/2021 08:16 AM