†
Standing on a Pacific headland, wind
at my back, I spy a line of white pelicans
like galleons sailing in the sky.
†
They flap in unison and rise
before beginning another long glide
on their white, black-tipped wings.
†
Soaring over my head I hear their
bulky bodies cleaving the air; shiver
as their cool shadows pass over me.
†
I marvel at their grace; wish to sprout
feathers and join the flotilla in their
aerial parade.


© by Norma Wightman.
Used with the authorís permission.
†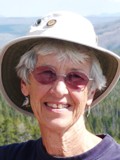 Norma Wightman lives in Morro Bay, California where she walks the beach daily, leads nature hikes in local state parks and enjoys yoga, kayaking, and birding around the beautiful central coast. Norma's poems, which she says are "inspired by everyday items and nature," have appeared in local publications and art exhibits.
Anastasia:
We have many brown pelicans around the island I live on. It's so magical to watch them skim across the water! Sometimes, when I take the ferry, we get an honor guard of them escorting us part of the way across the bay.
Posted 08/07/2021 05:16 PM
Connye:
This poem is particularly personal for me. The American White Pelican visits our large lake each winter. The experience described so well is one I've had. Thank you.
Posted 05/30/2021 11:38 AM
Janet Leahy:
Wonderful language, the flotilla in their aerial parade. Thank you Norma.
Posted 05/29/2021 11:02 PM
Adriana:
wonderful imagery, lilting rhythmns, internal rhyming -a perfect picture
Posted 05/29/2021 07:59 PM
KevinArnold:
Fun, especially for someone who shares a love of the Pacific coast.
Posted 05/29/2021 11:30 AM
TheSilverOne:
I live by a river where Pelicans like these gather, and watch them glide like this poem. This describes it beautifully!!!
Posted 05/29/2021 09:17 AM