Done are the toils and the wearisome marches,
Done is the summons of bugle and drum.
Softly and sweetly the sky over-arches,
Shelt'ring a land where Rebellion is dumb.
Dark were the days of the country's derangement,
Sad were the hours when the conflict was on,
But through the gloom of fraternal estrangement
God sent his light, and we welcome the dawn.
O'er the expanse of our mighty dominions,
Sweeping away to the uttermost parts,
Peace, the wide-flying, on untiring pinions,
Bringeth her message of joy to our hearts.

Ah, but this joy which our minds cannot measure,
What did it cost for our fathers to gain!
Bought at the price of the heart's dearest treasure,
Born out of travail and sorrow and pain;
Born in the battle where fleet Death was flying,
Slaying with sabre-stroke bloody and fell;
Born where the heroes and martyrs were dying,
Torn by the fury of bullet and shell.
Ah, but the day is past: silent the rattle,
And the confusion that followed the fight.
Peace to the heroes who died in the battle,
Martyrs to truth and the crowning of Right!

Out of the blood of a conflict fraternal,
Out of the dust and the dimness of death,
Burst into blossoms of glory eternal
Flowers that sweeten the world with their breath.
Flowers of charity, peace, and devotion
Bloom in the hearts that are empty of strife;
Love that is boundless and broad as the ocean
Leaps into beauty and fulness of life.
So, with the singing of paeans and chorals,
And with the flag flashing high in the sun,
Place on the graves of our heroes the laurels
Which their unfaltering valor has won!


This poem is in the public domain.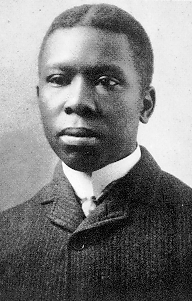 Paul Laurence Dunbar (1872-1906) was from Ohio. He wrote his first poem at the age of six, was editor of his high school newspaper, and published his first book at twenty. His writing attracted attention from the very beginning, and Paul became well-known in both America and around the world. Like James Whitcomb Riley, who was a fan of his young contemporary's work, Paul wrote many of his poems in dialect. Besides a dozen books of poetry, Paul wrote four short story collections, five novels, a play, and the first Broadway musical ever written and performed by African-Americans. A tremendously successful poet whose work was being published in all the major literary publications of his day, Paul's life was cut tragically short by tuberculosis.
KevinArnold:
My brother Darrell has said it all (actually, he's not my brother--all we share is the same last name. But he says smart things.)
Posted 05/31/2021 09:43 AM
cork:
There are so many to remember including the Palestinians and the Israelis who died in their brief war.
Posted 05/31/2021 09:08 AM
Darrell Arnold:
Wow! Powerful words. Heartfelt sentiment. Beautiful composition and rhyming. I was unaware of Paul's work. Thank you for rectifying that omission. This is one to read over the graves and then pray.
Posted 05/31/2021 08:38 AM