†
Standing still in this grove of live oaks †
thickened with knobbed trunks †
and thin prickly leaves,
aware of a nearby streamís sounding,
the green hum of the air
bursting with warblers and bees, †
and miniature blue dragonflies,
insect itches forgot,
flies and pests forgot,
sunís sting laid aside,
†
I want nothing now
but this sage smell,
this bird sound,
this wind flow,
this bouquet of lupine †
and clover,
this time and †
this peace.† †


© by Ruth Gooley.
Used with the authorís permission.
Ruth Gooley is the author of a chapbook, Living in Nature, and has had poems published in a variety of journals. She lives in a cabin in the Santa Monica mountains, in harmony with the abundance of nature there.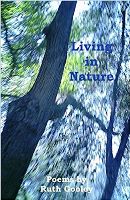 Jancan:
Lovely lines about nature's power to capture our attention
Posted 06/02/2021 08:14 AM
Anastasia:
I want to be there, right now. This sounds so perfect! Thank you, Ruth!
Posted 06/01/2021 02:52 PM
michael escoubas:
This poem makes one feel alive with its well-crafted sensory titilations! Well done, Ruth.
Posted 06/01/2021 12:43 PM
Tracers645:
Beautiful.
Posted 06/01/2021 11:43 AM
Janet Leahy:
A poem to read again and again, love the bouquet of lupine and clover, I want to hold on to this time and this peace, and also I want to hold on to this poem with the wind flow and sage smell.
Posted 06/01/2021 10:05 AM
Larry Schug:
To me, this poem's lesson is that one's entire life has led to this day. Enjoy it fully.
Posted 06/01/2021 08:11 AM
bobbi43sml@aol.com:
I love the thoughts and I love the construction. How this poem "winds down" to two words. Lovely lovely
Posted 06/01/2021 07:01 AM
Jgonzalez:
Yes enjoying nature. Taking it all in nothing wrong with that
Posted 06/01/2021 04:29 AM