in southern Louisiana I turn on the radio
and hear the preacher who takes phone calls
say to Miss Estelle, did you wake today
with Jesus in your heart, let Him take your hand?
She answers yes, yes, and I switch stations
to catch Miss Graysonís Flea Market. Losing
the signal I switch stations and sing along
to Cajun music for a while . . . Et Toi, Cher!* †
After some time I realize I've heard
je 'taime mon couer* and couer brisť ***
in several of the songs. So, from Ponchatoula
through Baton Rouge, stopping for lunch in †
Lafayette, to Lake Charles I have collected
a long string of different hearts. Maybe even
my own. Some blessed, some full of feeling, †
some unhappy. A gumbo of love and loss.


© by Robert Manchester.
Used with the author's permission.

*And you, dear
**I love you, sweetheart
***Broken hearted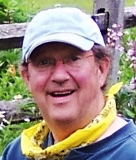 Robert Manchester (1943 - 2022) was born and raised in New Hampshire, surrounded by leafy trees, stone walls, and memories of Robert Frost, Jane Kenyon, Donald Hall, and Richard Eberhardt. He wrote and published poems for 50+ years, admitting that he much preferred writing to submitting, although his work appeared in print frequently. Robert especially enjoyed writing "edgy" poems, he said, about "the underbelly of life--the junk cars, tumbledown trailers, goat pens in the front yard, and the like." In addition to being a poet, he was a lifelong gardener and devoted volunteer at many charitable, educational, and public organizations.
paradea:
Great poem, Robert!! I like it!
Posted 06/02/2021 10:02 PM
Anastasia:
A tasty gumbo of a poem! Thank you, Robert!
Posted 06/02/2021 04:32 PM
Stephen Anderson:
This is a great neck of the woods poem, both colorful and, I might say, a charming gumbo of things.
Posted 06/02/2021 02:58 PM
peninsulapoet:
I like this poem. Terrific.
Posted 06/02/2021 11:07 AM
DavidTookey:
Wonderful poem! Cruising the radio dial, not many of us do that anymore-I do!
Posted 06/02/2021 10:52 AM
KevinArnold:
Oh, great fun. A Delightful gumbo.
Posted 06/02/2021 10:01 AM
cork:
I will think of this poem as I make gumbo today and associate it with love.
Posted 06/02/2021 09:30 AM
michael escoubas:
My anscestors were cajuns, Robert . . . yes, this excellent poem is well-crafted and reaches/touches my heart with memories of language and landscape: Lake Charles, Lafayette, Sulphur and many more!
Posted 06/02/2021 09:03 AM
MaryLeeHahn:
I love poems that start with the title! And this: "...I have collected/a long string of different hearts."
Posted 06/02/2021 08:35 AM
Jancan:
A thoughtful message about variety in life--experienced in one day
Posted 06/02/2021 08:12 AM
Larry Schug:
An amazing poem. I fell into it immediately and it took me to another place. These words deserve many readings.
Posted 06/02/2021 07:27 AM
Rob:
Beautifully put! Love the examples! :)
Posted 06/02/2021 06:48 AM
paula:
Great closing line
Posted 06/02/2021 05:06 AM