O little soldier with the golden helmet,   
What are you guarding on my lawn?   
You with your green gun   
And your yellow beard,   
Why do you stand so stiff?           
There is only the grass to fight!


From Anthology of Massachusetts Poets (Boston: Small, Maynard & Company, 1922).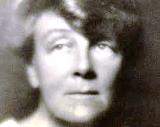 Hilda Conklin (1910 - 1986) was born in New York, but grew up in Massachusetts. Her mother was an English professor and a poet, and Hilda began composing poems and narrating them to her mother when she was only four years old. Three collections of Hilda's poems were published--all of them composed before this "child-poet prodigy" turned 15. Though she didn't continue writing poems as an adult, Hilda maintained a close connection with words: she worked as a bookstore manager.
richard.cary@att.net:
Yes!!!
Posted 06/11/2021 10:14 AM
michael escoubas:
Wow! Great find, Jayne . . . fascinating person (somewhat mysterious) who gives us a poem without exacting rhyme but which seems to sing a vibrant song from within itself.
Posted 06/11/2021 09:49 AM
cork:
Who eats dandelion greens?
Posted 06/11/2021 08:58 AM
KevinArnold:
Great funthey stand erect.
Posted 06/11/2021 08:21 AM