Is this a time to be cloudy and sad,
When our mother Nature laughs around;
When even the deep blue heavens look glad,
And gladness breathes from the blossoming ground?

There are notes of joy from the hang-bird and wren,
And the gossip of swallows through all the sky;
The ground-squirrel gayly chirps by his den,
And the wilding bee hums merrily by.

The clouds are at play in the azure space,
And their shadows at play on the bright green vale,
And here they stretch to the frolic chase,
And there they roll on the easy gale.

There's a dance of leaves in that aspen bower,
There's a titter of winds in that beechen tree,
There's a smile on the fruit, and a smile on the flower,
And a laugh from the brook that runs to the sea.

And look at the broad-faced sun, how he smiles
On the dewy earth that smiles in his ray,
On the leaping waters and gay young isles;
Ay, look, and he'll smile thy gloom away.


This poem is in the public domain.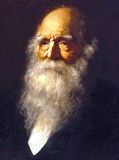 William Cullen Bryant (1794 – 1878) was a lawyer, poet, and journalist. He was born in Massachusetts to a doctor and a mother who could trace her ancestry back to John Alden and Priscilla Mullins (of the Mayflower). Drawn to poetry even as a child, Cullen (as he was called) was considered a prodigy and had published several poems by the time he was thirteen. Unable to attend Yale due to his family's financial limitations, he reluctantly pursued a degree in law and practiced successfully, if not happily, for ten years before securing a position as a newspaper journalist. He eventually became editor-in-chief of the New York Evening Post and remained in that role for fifty years, becoming one of the most popular and influential figures of his time.
Darrell Arnold:
One of my most treasured possessions is a 1970 printing of the LIBRARY OF WORLD POETRY, which was originally published in the late 1800s by Avenal Books. The more than 1500 poems by more than 400 poets was collected and edited by William Cullen Bryant. Whenever I want to get back in touch with beautifully executed rhyming poetry by the old masters, this is the volume I turn to. Thank you for presenting one of Mr. Bryant's own efforts.
Posted 06/12/2021 11:00 AM
KevinArnold:
I'd never imagined clouds might be at play. My too-analytic mind always thought of them too scientifically to see that play.
Posted 06/12/2021 09:24 AM
Larry Schug:
Still good advice--go outside and play.
Posted 06/12/2021 07:50 AM
bbatcher:
One of Bryant's most powerful poems is still relevant today. "The Death of Slavery" was written right after the Civil War, and reflects the same positive outlook as "The Gladness of Nature."
Posted 06/12/2021 06:58 AM