My son brings me a stone and asks
which star it fell from.† He is serious
and so I must be careful,
even though I know he will place it
among those things that will leave him
someday, and he will go on, gathering.
For this is one of those moments
that turns suddenly toward you, opening
as it turns, as if for an instant
we paused on the edge of a heartbeat
and then pressed forward, conscious
of the fear that runs beside us
and how lovely it is to be with each other
in the long resilient mornings.


© by David Watts.
Used with the authorís permission.
†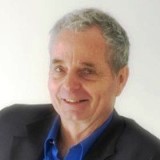 David Watts, who occasionally publishes under the pseudonym Harvey Ellis, is the author of seven books of poetry, three collections of short stories, two mystery novels, seven western novels, a Christmas memoir, and several essays. He is also a physician, a musician, an inventor, a former television personality, and a former commentator for the long-running NPR program, All Things Considered. David lives in Mill Valley, California; learn more about him at www.hdavidwatts.com.
jamvan:
What a beautiful sensitivity. Thankyou
Posted 06/16/2021 12:21 AM
Jancan:
lovely, touching poem!
Posted 06/15/2021 04:14 PM
Adriana:
I shall be quoting from the last six lines many times. This is how I wish I could write! And yes, per Kevin below, the ending could apply to marriage also. With "the fear that runs beside us" and "the long resilient mornings," this poem instantly suggested a possible meaning for a favorite flash fiction that I have treasured for many years, the three paragraph "Flight" by Michael Chitwood, about a father rescuing his son from a chasing bull.
Posted 06/14/2021 06:42 PM
AlmaMPesiri:
made me think of the fragility of our time with our children; recently able to be with my great-grandson for several days, but wonder if a 2-year old remembers the games we played...
Posted 06/14/2021 03:50 PM
gailcomorat:
Magical from the first line.
Posted 06/14/2021 12:03 PM
paradea:
This is beautiful!! One of the best I've read here!!! Thank you.
Posted 06/14/2021 11:44 AM
michael escoubas:
Love, "opening as it turns . . . on the edge of a heartbeat." Well done David!
Posted 06/14/2021 11:09 AM
cork:
We capture the moment and fear its loss.
Posted 06/14/2021 10:39 AM
wordartdjc:
Such an extremely sensitive poem that many parents will understand and take from it the love and care it carries.
Posted 06/14/2021 10:25 AM
KevinArnold:
When David, a friend, wrote long resilient mornings, I read long resilient marriage, with which hes been blessed.
Posted 06/14/2021 10:23 AM
MatthewMiller:
This is an excellent poem of what it feels like parenting, gathering stars.
Posted 06/14/2021 10:18 AM
Larry Schug:
I like the obscurity in the title. It carries through the poem with words like "some day" and "one of those moments" and yet it perfectly nails down what it means to be a father. Very nice, very skillful.
Posted 06/14/2021 07:43 AM