From not even a hint it appeared
one long hot boring summer day out
in the yard magically suspended from
under the ancient white sycamore tree as if
hanging from two giant spider silk threads.
†
I was too young to understand
just how simple and clever it was.
Secretly constructed and installed
by my father, a rock steady hard
working blue collar saint of a man.
†
Amazingly, it was made up from only three parts.
Two purposeful measured lengths of smooth
strong rope and one 2 by 6 redwood board cut
two feet long with four holes drilled through it,
two holes spaced evenly on each end.
†
These three parts all tied together with one
symmetrical square knot under the seat and
two brotherly looking bowline knots one on each
end of the seat with long tethers reaching straight
up to their cinch point hidden high in the tree.
†
A swing, such a simple thing. It became
the epicenter of my summer, especially on
those warm evenings when the house was so hot.
That was when I discovered that with consistent and
determined leg pumps, I could make the moon rise.
†
A swing, such a magical thing. Now as I secretly build
my first swing, I recognize the simplicity of that swing
built by my father. I now appreciate the genius of it. I now
sense the love crafted into it. Now I realize that it was
my fatherís love that made the summer moon rise.
†
†
This poem first appeared in Eskimo Pie eJournal (February, 2016).
Used here with permission.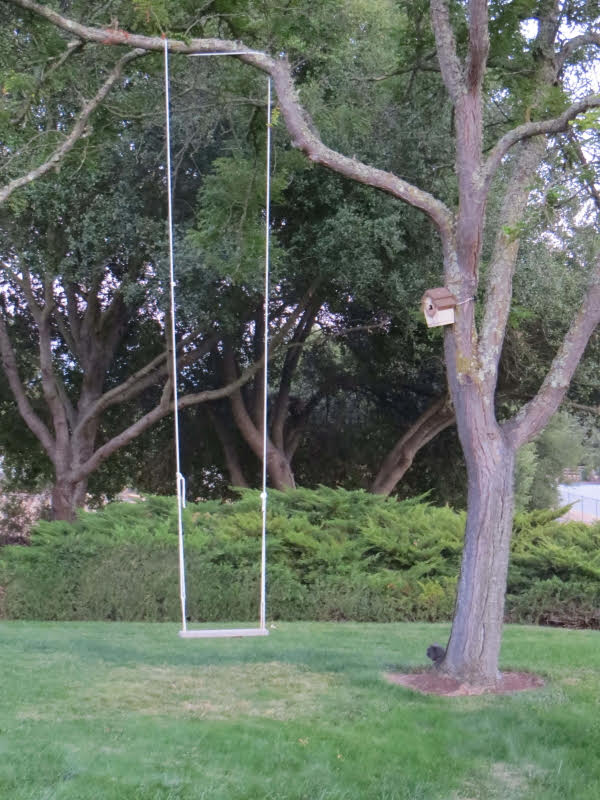 Swing and photo by Edward Ferri, Jr.
†
†
†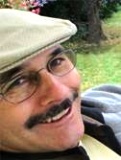 Edward Ferri, Jr. grew up on a farm near California's Santa Cruz Mountains. After traveling North America by himself on a motorcycle and living in upstate New York for several years, he eventually returned to California. Edward's work has been widely published in print and online journals and those years on the road are chronicled in his book, Glassy Air: Poems Kindled in the Long Shadow of a Lone Motorcycle, published in May, 2018.
jamvan:
how enchanting and how poignant too - beautiful tribute
Posted 06/16/2021 12:23 AM
Anastasia:
What a wonderful word picture!
Posted 06/15/2021 05:44 PM
paradea:
Such a beautiful poem!!
Posted 06/15/2021 05:06 PM
Corgicottage:
Mr. Ferri and I have the same dad...or very similar. In this poem I see my dad, and 8nstead of a swing, a pool. My dad worked and sweated putting up the pool and everyday he arrived home for lunch at 12:05, had lunch, rested a little bit and cleaned the pool for his totally ungrateful kids...why do not seen the Saint in our fathers until we turn many more pages ourselves? Then he went back to work until 5. Blessings to the elder Mr. Ferri, and love and blessings to my dad.
Posted 06/15/2021 01:49 PM
Adriana:
Having known only swings attached to a metal framework one buys,I too find the construction details fascinating. The lyrical description of the father (lines 7/8) combined with the specific actions he performed make a lovely tribute to a man who could not only create a swing for his son but also make the summer moon rise. Nice! (Kind of like writing words of down-to- earth detail combined with words of lyrical flight...)
Posted 06/15/2021 11:53 AM
TheSilverOne:
Wonderful memories. Love this.
Posted 06/15/2021 09:11 AM
cork:
I love the construction detail.
Posted 06/15/2021 08:57 AM
Larry Schug:
If autobiographical, which I assume it is,---Lucky you! The ending is stunning.
Posted 06/15/2021 08:13 AM