Gently I stir a white feather fan,
With open shirt sitting in a green wood.
I take off my cap and hang it on a jutting stone;
A wind from the pine-trees trickles on my bare head.


Translation by Arthur Waley, 1919.  
This poem is in the public domain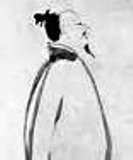 Li Po (702-761) is one of China's best known poets. Also known as Li Bai, this wealthy scholar produced an abundance of work praised for its imagination, imagery, and celebration of simple subject matter. Beloved by rich and poor alike, Li Po spent most of his life traveling around his home country. Generous with his wealth and fond of a good time, Li Po was alternately favored and imprisoned by Chinese royalty. His nickname, "the poem god," came from his alleged ability to produce beautiful poetry quickly and effortlessly. More than a thousand of his poems are still around for us to read and enjoy.
Anastasia:
Li Po's poems are always a treat!
Posted 06/23/2021 08:45 PM
Janet Leahy:
The first word in this poem "gently" sets the tone and flows through the poem.
Posted 06/23/2021 01:35 PM
TheSilverOne:
Beautiful. simply that.
Posted 06/23/2021 10:56 AM
KevinArnold:
Well, yes, Li Po, yes.
Posted 06/23/2021 10:01 AM
cork:
I am amazed!
Posted 06/23/2021 08:58 AM
Larry Schug:
Isn't it amazing what a few well-placed marks on paper can do? This small poem took me right out of my skin for a minute!
Posted 06/23/2021 07:59 AM