So once again the morning wind shakes leaves—
brown and crisp paper maracas—to no
one's metronome. Crush and thrash, and a bit
of hiss-whisper. Something of danger in it.
Maybe. Something a bit too wild, although

I love the wind. In and out of all tree
limbs, through blades of grass and, it always seems,
fluting through the hollowed reeds of my ribcage—
a whittling of the spirit
to bright ribbons of prayer and joy. Once again
the day begins inside and out of me.            
And I am thankful to be here, frail leaf        
that I am, loving how the world pours itself
into me. I am rinsed. I am blent.


© by Paula Schulz.
Used with the author's permission.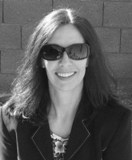 Paula Schulz has taught students in kindergarten, college, and a few grades in between. She is involved with the Poetry People in Waukesha and lives with her husband, Greg, in Slinger, Wisconsin.
bruceniedt:
So much language to enjoy here: "...fluting through the hollow reeds of my ribcage..." - wonderful!
Posted 06/23/2021 02:08 PM
jamvan:
a homage to nature and spirit - wonderful
Posted 06/22/2021 10:23 PM
paradea:
Lovely!
Posted 06/22/2021 05:51 PM
Wilda Morris:
". . . no one's metronome." Love it! so many wonderful lines and what a strong ending.
Posted 06/22/2021 01:12 PM
Janet Leahy:
Paula, so good to read your poetry again. I love the "bright ribbons of prayer and joy". Always a treat to read your work. Thank you,
Posted 06/22/2021 12:45 PM
Glen Sorestad:
What a fine morning poem, Paula. Thank you for this treat.
Posted 06/22/2021 12:36 PM
Lori Levy:
Beautiful language and images.
Posted 06/22/2021 11:26 AM
Rob:
"loving how the world pours itself/into me. I am rinsed. I am blent". Awesome!
Posted 06/22/2021 10:24 AM
peggy.turnbull:
"frail leaf that I am" puts the past year into perspective for me.
Posted 06/22/2021 10:21 AM
richard.cary@att.net:
Lovely.
Posted 06/22/2021 10:16 AM
cork:
The wind will never feel the same to me again.
Posted 06/22/2021 10:05 AM
KevinArnold:
I love the only stanza break: "Something a bit too wild, although // I love the wind.
Posted 06/22/2021 09:41 AM
Larry Schug:
I've never seen the word "blent". "Hiss-whisper" is a great description and I like "the day begins inside and out of me".
Posted 06/22/2021 07:32 AM