My grandkids play a game called "Shadowland,"
a kind of outdoor version of "Floor is Lava."
On a hot sunny day, all shadows and shade
become islands in a dangerous sea.
The object is to run from shadow to shadow
without being eaten by ravenous sun-sharks.
They conjure up dorsal fins slicing imaginary water
behind them, and always make landfall
just in time under a tree, or even, in a pinch,
another person's shadow.
†
I think of this game today while I'm mowing the lawn,
my machine a power boat cutting green waves
from point to point, with shady islands at either end.
I outrun the merciless heat of sun-sharks
every time, sometimes taking an extra minute
before leaving the cool tropical refuge
of these temporary and shifting sanctuaries
where no one gets bitten
and no one gets burned.


© by Bruce W. Niedt.
Used with the authorís permission.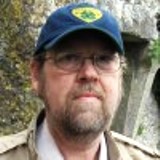 Bruce W. Niedt is a retired civil servant and a lifelong resident of southern New Jersey. A happily married father of four and grandfather of three, his poetry has appeared in numerous journals.and he is the author of seven poetry chapbooks. Bruce's first full-length collection will be released by Kelsay Books in 2022. Learn more about him at bniedt.blogspot.com.
Wilda Morris:
I love the way this poem celebrates the games children make up when they aren't wrapped up in electronic media!
Posted 07/06/2021 12:02 PM
Anastasia:
What delightfully creative kids! I appreciate how you've built the poem around their idea. The last two lines are something we can all hope for, everywhere.
Posted 07/02/2021 07:32 PM
Jancan:
May we always have lively imaginations! Very descriptive and enjoyable poem
Posted 06/30/2021 12:24 PM
paradea:
I like this poem!
Posted 06/30/2021 09:33 AM
Mariah:
I love the line, "My machine a power boat cutting green waves"
Posted 06/30/2021 09:22 AM
michael escoubas:
Where's my coat and gloves? I'm shivering Bruce!
Posted 06/30/2021 08:25 AM
Larry Schug:
I think the metaphorical impact of the last two lines is what makes this poem so fine.
Posted 06/30/2021 07:31 AM
Rob:
Beautiful! Love the capturing of childhood fun and fears, the "sun sharks", and the lovely closing thoughts!
Posted 06/30/2021 05:58 AM