I sit at the window watching
afternoon come to an end,
a curious quality to the light,
a half-light, a feeling of green,
not vibrant and growing but faded
with an underlay of yellow
as though lit from below,
the woods dark
at the edge of the yard.

I feel I am part
of a painting,
the one perhaps
from my childhood home.
How often was I drawn
into its spell, absorbed
by the cottage
and its other-worldly light,
the boy walking a path

edged with woods,
past a pond yellowed
with the late sunís luster. †
He goes, I think, for the cows,
to bring them home
before day is done.
The light, though fading,
nonetheless fades no further,
but is caught and held,

a light not extinguished
by the coming dark.


This poem first appeared in Wisconsin People & Ideas (Spring 2007).
Used here with permission.
†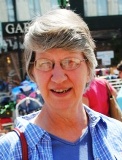 Kay N. Sanders, a native Southerner who now lives in Oshkosh, Wisconsin, has an 11-circuit labyrinth mowed into her backyard, which she shares with deer, rabbits, turkeys, squirrels, chipmunks, possums, birds, a garter snake or two, plus whatever else wanders through. Kay grew up hearing her mother and maternal aunts recite poetry, sing songs, argue, tell stories, quote scripture and even cuss, now and then; how could she not become a poet?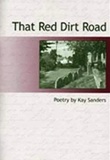 Jo:
Beautiful Kay. Your writing always touches me .
Posted 09/18/2021 01:37 PM
Jo:
Hi Kay, what a beautiful poem and so good to read your work again as Janet comments. You describe that special light so well.
Posted 08/27/2021 11:04 PM
Wilda Morris:
Lovely descriptions, Kay.
Posted 07/06/2021 12:01 PM
Kay N. Sanders:
Thank you all for your wonderful comments.
Posted 07/01/2021 09:35 PM
david:
This is a beautiful poem.
Posted 07/01/2021 09:15 PM
Anastasia:
Such a lovely word picture! I can see the painting!
Posted 07/01/2021 05:28 PM
Lori Levy:
Beautiful poem.
Posted 07/01/2021 05:02 PM
Janet Leahy:
Lovely poem Kay, so nice to read your work again. I love the twilight time, when shadows fall and light fades away but as you say in the poem "fades no further but is caught and held."
Posted 07/01/2021 01:05 PM
Judy:
Kay, how could you not become a poet! Your title just works itself in such a lovely through every line of this wonderful poem on light!
Posted 07/01/2021 10:40 AM
KevinArnold:
Stunning. pond yellowed / with the late suns luster.
Posted 07/01/2021 09:50 AM
Gilbert Allen:
A lovely meditation upon the interplay between art and everyday life.
Posted 07/01/2021 09:47 AM
michael escoubas:
Poetry is a "light not extinquished / by the coming dark." Wonderful work, Kay. You have written not only about the force and power of the painting in view, but about the force and power of poetry itself. This is an important piece of work.
Posted 07/01/2021 08:58 AM
Larry Schug:
In its own way poetry is about a certain kind of light.As I read this poem I become absorbed in the scene and become illuminated, myself. I was totally swept away.
Posted 07/01/2021 07:34 AM
Rob:
Great description of the late afternoon light and of the painting and its light.
Posted 07/01/2021 06:59 AM
paula:
Hi Kay, Lovely poem. My parents had a copy of "The Gleaners" hanging in the kitchen. I once wrote about that painting too.
Posted 07/01/2021 05:09 AM