Chasing fireflies around the wooded
back yard, reaching for them in the dark,
admiring their compact black bodies,
orange stripes, twitching antennae
as they crawl up my fingertips.
Their glow inside a jar. Later,
releasing them into the night air,
lying on my back, surrounded
by the hum of chirping crickets,
I pick out pinprick constellations. †
Grass damp with dew, sweat from
mowing salty on my skin. Night
birds dip and dive after insects.
The murmur of my parentsí cocktail
voices in the summer darkness. †

Like so many moments left behind,
ordinary then, but now as bright as
the light of ten thousand fireflies.


© by Fredric Hildebrand.
Used with the authorís permission.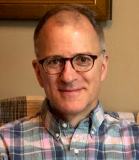 Fredric Hildebrand, a retired physician in Neenah, Wisconsin, is the author of two poetry chapbooks, Northern Portrait and A Glint of Light. When not writing or reading, he enjoys playing acoustic guitar and exploring the Northwoods with his wife and two Labrador retrievers.
Wilda Morris:
Brings back good childhood memories.
Posted 07/06/2021 11:58 AM
Adriana:
Chasing fireflies? Yes. Lying on outdoor ground with insects? Never. But the images are lovely: "pinprick constellations" is inspired, and I love the last five lines which will be copied into my quotes to remember...
Posted 07/04/2021 04:52 PM
Lori Levy:
Beautiful images.
Posted 07/02/2021 10:02 PM
TheSilverOne:
Ah,yes, those moments that seemed insignificant then that we long to relive. Loved this poem.
Posted 07/02/2021 08:19 PM
Anastasia:
Thank you for this wonderful memory! This sounds like many nights of my own childhood.
Posted 07/02/2021 07:23 PM
peninsulapoet:
"cocktail voices in the summer darkness" lovely poem.❤️
Posted 07/02/2021 01:38 PM
paradea:
Nice one!!
Posted 07/02/2021 01:19 PM
peggy.turnbull:
This is a lovely summer poem, told with warmth and wisdom. I am in that yard, watching "Night birds dip and dive."
Posted 07/02/2021 11:32 AM
Sharon Waller Knutson:
This poem is so visual and sensual. I can see the glowing fireflies, the constellations and the birds, feel the fireflies crawling on skin, taste the salty sweat, and hear the humming of the crickets and the cocktailed voice of the parents.
Posted 07/02/2021 10:47 AM
KevinArnold:
Wonderful l. Pinprick constellations does a lot of work for two words.
Posted 07/02/2021 09:47 AM
Larry Schug:
Th is poem is beautiful and will, in the middle of next January, be a life saver! Of course, it also asks us to savor these beautiful summer evenings as they occur.
Posted 07/02/2021 07:36 AM
Rob:
So true that the ordinary can seem "as bright...as ten thousand fire flies" in retrospect!
Posted 07/02/2021 06:48 AM
Nicholas:
Beautiful. I like "pinprick constellations" and your balance of light and dark :)
Posted 07/02/2021 05:04 AM