Wind scuttles a toddler's rubber ball
toward the waves' greedy fingers,
a globe-painted orb,

lush green continents, spinning oceans.
I block its path, toss it
to the child's eager arms.

I splash back
at the sea, today
I saved the world.


© by Joanne Durham.
Used here with the author's permission.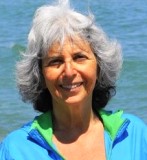 Joanne Durham is a retired educator who lives on the North Carolina coast, with the ocean as her backyard. She's been reading and writing poetry all her life, but only began seriously studying and sharing it with others over the past few years. Joanne taught college courses in writing for teachers and has written several book chapters about teaching writing to children. She believes everyone needs some form of art in their lives, and poetry is hers. Learn more about Joanne at https://www.joannedurham.com/.
Wilda Morris:
What fun! I love the ending.
Posted 07/06/2021 11:57 AM
jamvan:
Short and sweet and delightful - thanks
Posted 07/05/2021 09:30 PM
Alastair:
Beautiful! Settled my soul for today.
Posted 07/05/2021 01:20 AM
Jancan:
Conveys a lovely message about a good deed done for a child.
Posted 07/05/2021 12:18 AM
Adriana:
adorable - love the ending
Posted 07/03/2021 05:04 PM
Lori Levy:
I agree with the others' comments!
Posted 07/03/2021 04:49 PM
Anastasia:
Not all superheroes wear capes! What a fun take on the scene!
Posted 07/03/2021 04:00 PM
DELINDMAN:
Wonderful imagery, sparse and careful use of words, great ending...but had she left out "I splash back at the sea," the poem would not have been as rich. Sometimes we need a few more words.
Posted 07/03/2021 10:14 AM
paradea:
Good ol' North Carolina poet!!! I will remember this poem! I'm right there, the whole time. Every word, perfectly-chosen and placed. ..and the last five words, brilliant!
Posted 07/03/2021 09:31 AM
cork:
This poem makes a subtle splash.
Posted 07/03/2021 09:04 AM
mail@schoolbusmart.com:
A brief history of saving the world. 😅 I liked it. Randy
Posted 07/03/2021 08:53 AM
bobbi43sml@aol.com:
The perfect symmetry of the ball , the globe, the spinning continents. And scuttles just nails it!!
Posted 07/03/2021 08:53 AM
MaryLeeHahn:
Made me laugh! I love a great ending!
Posted 07/03/2021 07:56 AM
Sharon Waller Knutson:
I love this sparse poem full of imagery that tells a funny story I can relate to. I too felt like I was saving the world when I played ball with my five-year-old great grandson despite my exhaustion as hostess at the family reunion.
Posted 07/03/2021 07:36 AM
Rob:
Ha ha! Love the images, the story, and the superhero ending!
Posted 07/03/2021 06:46 AM