Paddling,
   I witness what I'm sure is an otter,
       but turns out to be a squirrel
                 in a furious swim for survival.
While I ponder whether he was chased
   or chose to try and cross the lake,
              he suddenly leaps from the water
     onto the hull of my boat.
Screeching,
  I watch him skitter across, then skid back in
               and once again struggle towards shore,
         where scrabbling over rocks and through brush
he disappears into the woods,
   leaving me to wonder
          if what he left behind
                         was better or worse
                                       than what he's about to find.


© by Joan Kantor.
Used here with the author's permission.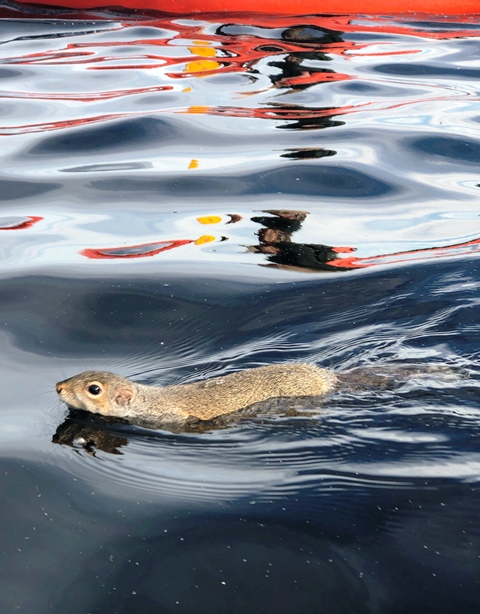 Photo credit: Joan Kantor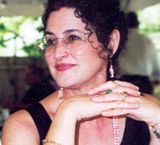 Joan Kantor lives with her husband in Collinsville, Connecticut. A college counselor and learning disabilities specialist for many years, Joan also has training in education and marriage and family therapy. Active in a number of poetry outreach efforts, she is a member of the International Academy for Poetry Therapy and collaborates with both visual artists and musicians in Stringing Words Together, an interactive program of poetry and violin music. Her most recent chapbook is Too Close For Comfort (Aldrich Press).
Adriana:
I love this sweet, gripping poem. Put me right into its heart-stopping drama, first fearing for, then fearful of, the squirrel. A perfect ending and pleasing design. And I like Schug's comment about the squirrel wondering...
Posted 09/27/2021 04:06 PM
Wilda Morris:
Well-done! You brought me along on that boat!
Posted 07/11/2021 09:33 AM
Lori Levy:
Great poem and photo.
Posted 07/10/2021 06:29 PM
TheSilverOne:
Wonderful poem! The bio is fascinating, too.
Posted 07/10/2021 10:31 AM
michael escoubas:
Insightful!
Posted 07/10/2021 10:16 AM
Rob:
Fun story, well told! Love the open-ended question at the end to that broadens the poem to wider ideas!
Posted 07/10/2021 08:44 AM
Larry Schug:
Amazing story. Amazing photo. The squirrel is probably wondering the same. This poem is a nice way to begin the day. Thanks.
Posted 07/10/2021 07:34 AM