It is Sunday
and the tomato plants have
asked for a day off
 
A break from the peering,
the scrutiny, the cheering on
 
Just a day when they can be,
attend the temples of
Water and Sunshine,
worship and be worshipped
without expectation
 
Where they can,
in peace,
blush


© by Katrin Talbot.
Used with the author's permission.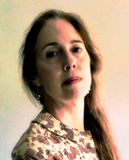 Photo credit: Isabel Karp
Australian-born Katrin Talbot is a violist, freelance photographer, and poet. Her most recent collection is Attached: Poetry of Suffix, due out this summer. Katrin's work has appeared in many literary journals and anthologies and she is the author of five other chapbooks. Katrin leaves in the Madison, Wisconsin area; learn more about her at https://www.katrintalbot.com/.
Lori Levy:
Love the idea of the tomato plants asking for a day off to just be.
Posted 07/11/2021 12:29 PM
Sharon Waller Knutson:
I love how you personified tomatoes. What a creative unique poem. Favorite line, "When they can, in peace, blush."
Posted 07/11/2021 12:21 PM
mer:
Fascinating history of the tomato! Great poem! Love those tomatoes
Posted 07/11/2021 11:38 AM
Wilda Morris:
Delightful!
Posted 07/11/2021 09:32 AM
KevinArnold:
Great fun. I particularly liked: Just a day when they can be,
Posted 07/11/2021 08:48 AM
Rob:
We all need time to just be...even tomato plants! Fun bit of rhyme "peering/cheering" and closing one-word line...nice technique!
Posted 07/11/2021 08:18 AM
Larry Schug:
Now, if I could just get the birds that peck the tomatoes to take a day off, but I suppose they worship the tomato, too, for their own reasons. "the Temples of Rain and Sunshine"--how true.
Posted 07/11/2021 07:56 AM