Reds whites greens
My friend used to plant on her porch
cherry sized oval not spherical and share
with us at dinner
Pop one into the mouth
chew and send down the tummy tube

Once in the country
passing by a field left by the farmer
ripe red tomatoes soaking up sunshine
free for the plucking
to bite into like sweetest fruit
letting juice drip over lips and chin
even some drops on t-shirt

then with one warm in each palm
to give to husband and child
opening the door of our summer bungalow.


© by Charlotte Mandel.
Used with the author's permission.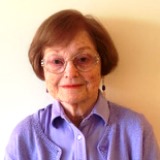 Photo credit: Richard Mandel
Charlotte Mandel lives in New Jersey. Though she didn't embrace poetry until midlife, she is the author of eleven collections and her awards include a Lifetime Achievement Award from Brooklyn College, the New Jersey Poets Prize, and two fellowships from the New Jersey State Council on the Arts. Charlotte's published work also includes the Eileen W. Barnes Award anthology of older women poets, Saturday's Women, and a series of essays on the role of cinema in the life and work of Hilda Doolittle.  Learn more about Charlotte at charlottemandel.com.
Lori Levy:
I can almost taste these tomatoes.
Posted 07/13/2021 06:14 PM
Larry Schug:
Perfect timing. We had our first tomatoes from the garden yesterday. The spirit of gracious acceptance and sharing illuminates these words.
Posted 07/13/2021 07:44 AM
Rob:
A lovely series of images around gifted tomatoes, plus the gift of the poem itself!
Posted 07/13/2021 06:48 AM