I want to pull this parched
tomato plant to my breast
Without smashing
its single surviving progeny
Mother-milk nourish it
Kindred soul connect
Not because death
is slow-dancing final steps
up the decayed stem
But because life labors
irrepressibly in the ripe red fruit
Ill-fated survival struggle
that clones my own
Feelings that crack break crush
at the touch of a harsh word
Once supple skin withered
Weathered from within
Well sunk deeper
with each midlife month
Red fruit bearing river
mother nature renders dry
Muzzles it at the mouth
until the dam self-defends
and ruptures into a flood
A conceivable last crop


From Stroking David's Leg (Foothills Publishing, 2009).
Used here with the author's permission.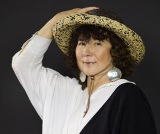 Photo by Alexis Rhone Fancher
Ellaraine Lockie is widely published and awarded as a poet, nonfiction book author, and essayist. Her award-winning work has found its way onto broadsides, buses, rented cars, bicycles, cabins, greeting cards, key chains, bookmarks, mugs, coffee sack labels, church bulletins, radio shows and cable TV. Ellaraine teaches writing workshops and serves as Poetry Editor for the lifestyles magazine, Lilipoh. She is also a professional papermaker and creates "pollages", which reflect her loves of papermaking, poetry, and collage. Ellaraine's latest book of poetry is Trio, which she co-authored with Connie Post and Karla Huston; her kitchen companion/cookbook for the lactose intolerant is forthcoming from St. Johann Press.
Lori Levy:
Powerful poem.
Posted 07/14/2021 06:21 PM
michael escoubas:
Even men resonate with "once supple skin!" How lovely the paralells between the natural and human worlds. Well done Ellaraine.
Posted 07/14/2021 08:24 AM
Larry Schug:
A poem that deserves and needs many readings, both for pleasure and for its depth.
Posted 07/14/2021 07:53 AM