I've tasted many in my long life,
from gardens, from markets
farm and super.
Red, yellow, pink, and even striped.
Mottled purple, orange.
Large, small, round oblong,
oval San Marzanos, touted as superior.
Canned, frozen, dried and, above all, fresh.
But none compare to that bite I took
of a newly sun-ripened globe
plucked from one of the two plants in our
garden, still smelling of the vine.
My father held it out to me.
I rejected it at first—and the idea of
eating directly from the garden,
"No, that's for squirrels," I thought.
"Where's the salt?" I asked.
My father smiled, held it out again.
"Try it."
My small teeth punctured the warm, tender
outer skin. Juice dripped over my lip onto my chin,
as my tongue directed soft tomato flesh
deeper into my mouth. I chewed,
swallowed, smiled.
Dad took a bite too. We took the
rest inside. He divided it, drizzled the
chunks with oil, sprinkled salt,
handed me a piece of bread,
and we continued lunch.


© by Joan Leotta.
Used with the author's permission.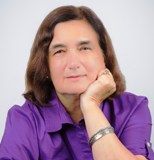 Joan Leotta lives in Calabash, North Carolina. A writer and story performer, her poetry, essays, articles, and short stories are widely published and she is the author of ten books. On stage, Joan tells stories of food, family, and strong women. Learn more about her at www.joanleotta.wordpress.com.
Jancan:
Lovely, expressive poem about tomatoes--and so much more
Posted 07/16/2021 10:12 AM
Lori Levy:
Beautiful poem and memory.
Posted 07/15/2021 02:10 PM
Adriana:
This beautifully crafted and delicious evocation is what poetry should be. And this is how tomatoes should be but usually aren't. But why add salt and olive oil to a perfect garden one?
Posted 07/15/2021 01:58 PM
Sharon Waller Knutson:
I loved this powerful photographic poem by Joan Leotta, one of my favorite poets and fellow journalist. I love how she alternates description with dialogue to tell a touching story about tomatoes, fathers and daughters we can all relate to.
Posted 07/15/2021 11:46 AM
paradea:
Well-written, beautiful memory! Duke's mayonnaise on white bread would have completed it for this Southern girl!!!
Posted 07/15/2021 10:52 AM
KevinArnold:
I like Try it. On its own line. Inviting.
Posted 07/15/2021 09:18 AM
Larry Schug:
These words are wonderful in so many ways- the story they tell, the lesson learned, the bounty and beauty of love. The rhythm of "My small teeth punctured the warm, tender outer skin. Juice dripped over my lip onto my chin," brought pleasure to my ears.
Posted 07/15/2021 08:22 AM
Rob:
Beautiful moment captured in your poem! love the description of the food and the sharing of the tomato!
Posted 07/15/2021 08:05 AM