That land full surely hastens to its end
Where public sycophants in homage bend
The populace to flatter, and repeat
The doubled echoes of its loud conceit.
Lowly their attitude but high their aim,
They creep to eminence through paths of shame,
Till, fixed securely in the seats of pow'r,
The dupes they flattered they at last devour.
This poem is in the public domain.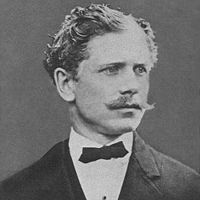 Ambrose Bierce (1842 - 1914, presumed) was born in Ohio, then raised on a farm in Indiana in a very large family with little money, but lots of books. He embarked on a newspaper career at the age of fifteen but, four years later, enlisted in the Union army and gave distinctive service there for many years before resuming his journalism career. Intelligent and ascerbic, Ambrose enjoyed writing satire and social criticism, and was lauded for a distinctive style which he displayed in multiple genres; in particularly, he is considered a master of the American short story.
In a bizarre, late-life adventure, Ambrose traveled to Mexico and began traveling as an "observer" with Pancho Villa's army. He was last seen in Chihuahua and last heard from on the day after Christmas in 1913; no one knows what became of him, though there have been several movies and books speculating on his demise and final days.
transitions:
"Smart guy"...I mean poet ~
Posted 05/26/2015 09:35 PM
barbsteff:
When I saw that the writer was Ambrose Bierce, I knew it was going to be biting satire. Very true today, though I find the poem a bit hard to read.
Posted 05/26/2015 11:26 AM
forrsher2:
Wonderful and eloquent statement of truth. I see our dupes being devoured every day.
Posted 05/26/2015 06:05 AM
msruff:
Great writer and, I see, grey port, too. Right on the money.
Posted 05/26/2015 03:57 AM
rhonasheridan:
Horribly true.
Posted 05/26/2015 01:10 AM