(inspired by a magazine advertisement for Tabu perfume by Coty, circa 1970)
†
For an hour they practice their violin and piano duet
While outside, elephants warm their backs

In the topiary garden

And the breeze presses the branches of the rose
More deeply into the curls of the black iron fence.

The blue damask drapes muffle
The sound of their stolen embrace
But outside the luncheon china and crystal
Shimmer in the morning light
And the swans of the white company linen
Float on the lake of each plate

Oh, it is spring
In the garden of love
And they take the time to pluck a few blossoms
For themselves, each hoping the other
Will utter the word they both crave, the perfume
Drifting up from the heat of her dress
Inspiring each to that end.
†
© by Sherry Hughes Beasley.
Used with the authorís permission.
†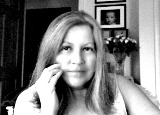 Sherry Beasley is the award-winning author of four poetry chapbooks and her work has appeared in numerous literary journals. Founder and senior editor of Astounding Beauty Ruffian Press, she is also a professional designer and artisan. Sherry, a native Virginian, lives near the Blue Ridge mountains.
Supa:
Fascinating! Different! Enjoyable! Very Visual!
Posted 05/27/2015 06:36 AM
phebe.davidson@gmail.com:
Good heavens, I remember that ad (or its near twin)---how postured, how elegant and romantically-even-then-outdated it seemed. How even the admen long for pasts that never really were . . . .?
Posted 05/27/2015 05:36 AM
r1manchester:
So light and airy,like a well-danced Viennese waltz. Ah,romance!
Posted 05/27/2015 04:41 AM
Katrina:
The elephants add sensitivity somehow.
Posted 05/27/2015 12:35 AM
KevinArnold:
I like the detail of the 'white company linen, and them plucking a few blossoms / For themselves.
Posted 05/26/2015 11:13 PM