One blackbird phones the flock
and makes the motion.
"I move we spend tonight
in the maple at the far west corner
of Beckman's field."
Everybody votes "Aye."
At dusk, all the birds make their way,
using their GPS systems,
to find a branch to share.
They greet old friends,
then settle down for the night,
content to sleep together
in the lace of the friendly tree.


From All That Matters: Collected Poems 2010 – 2018 (2018).
Used here with permission.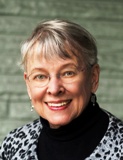 Peggy Trojan retired from teaching English to the north woods of Wisconsin. She and her husband, David, with the help of family, built a house next to a trout stream, where Peggy writes and tends her raspberry patch so she can make jam. Peggy's latest collection is All That Matters, Collected Poems, 2010 - 2018. Her recent release, River, won second place in the 2021 chapbook contest of the Wisconsin Fellowship of Poets, of which Peggy is a member.

Wilda Morris:
What a fun poem!
Posted 07/25/2021 10:05 PM
Anastasia:
What a wonderful way to describe the gathering of birds!
Posted 07/21/2021 12:41 AM
Lori Levy:
Beautiful image of the birds in the tree, and writing and tending a raspberry patch sounds great.
Posted 07/19/2021 02:38 PM
JJsgrandma:
I loved the poem altogether, and I, too, enjoyed the reference to GPS system. I especially loved the visual of.sleep together in the lace of the friendly tree. Thanks, Peggy, I very much enjoy your poetry!
Posted 07/19/2021 01:36 PM
wordartdjc:
Very sweet and so imaginative. I truly think that the is a great poem. Thank you.
Posted 07/19/2021 09:59 AM
Stephen Anderson:
I like the way you deal with grappling with Nature in this poem.
Posted 07/19/2021 09:46 AM
cork:
I love the planning and the GPS.
Posted 07/19/2021 08:58 AM
michael escoubas:
Nicely done, Peggy . . . this must be the 14th way of "looking at a blackbird"!
Posted 07/19/2021 08:17 AM
Rob:
Ha ha! Love the conference of birds!
Posted 07/19/2021 06:27 AM