†
We watched Neil Armstrong,
his head in a plastic bubble,
take a giant step we thought
divided history in two,
only to realize fifty years later
we were no closer
to the lives weíd imagined
as George and Jane Jetson.
†
Orbit City and its Skypad Apartments
equipped with Rosie the robot
are still science fiction.
†
And we still havenít learned
that change doesnít always arrive
while the whole world is watching.
†
Sometimes itís incremental,
so quiet, no one notices how
everyone carries a camera phone
as if it had no connection
to a man walking on the moon.


© by Jacqueline Jules.
Used here with the authorís permission
.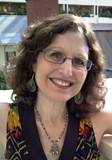 Jacqueline Jules is a former librarian who found herself intrigued by almost every book she put on the shelf. As a reader and as a writer, she doesn't restrict herself to one genre. A resident of Virginia, Jacqueline is the author of 40 books for young readers on a wide variety of topics. Her poetry has appeared in more than 100 publications, including three chapbooks: Field Trip to the Museum (Finishing Line Press), Stronger Than Cleopatra (ELJ Publications), and the award-winning Itzhak Perlman's Broken String (Evening Street Press). Learn more about Jacqueline at www.jacquelinejules.com.
Anastasia:
So many mornings, I wish I had Jane Jetson's "Get Dressed" machine! It would save so much time. I guess I'll have to content myself with a computer that's more powerful than the ones on that rocketship, that just happens to fit in my pocket!
Posted 07/21/2021 12:47 AM
Lori Levy:
Especially like the last stanza.
Posted 07/20/2021 09:34 PM
KevinArnold:
The heart of the poem seems to be: "And we still havent learned / that change doesnt always arrive / while the whole world is watching."
Posted 07/20/2021 10:08 AM
KateTompkins:
I like it, especially the turning point in the middle.
Posted 07/20/2021 09:22 AM
cork:
I must learn how to use the camera on my I-phone.
Posted 07/20/2021 08:49 AM