Have you e'er heard, at early morn,
The feathered poet sing his song,
Clear as a huntsman's clarion horn,
Yet softer, sweeter, and as strong?

Have you e'er felt his magic power
Soothe, as a balm, your troubled breast,
Change into mirth the gloomy hour,
Cradle th' enchanted sense to rest?

Have you e'er heard in native bowers
The mocking bird's angelic lay,
In Summer's home, the "Land of Flowers,"
Where cooling streams refresh the way?

I've roamed the woods from morn till night
In that delicious Summer clime—
For there my eyes first saw the light,
There kissed I first the cheek of Time!

I've heard the feathered poet sing—
Electrify the peace around—
Make the wild echoes gladsome ring—
With melody's divinest sound.

The wild flowers all about in bloom—
The nodding pine—the winding stream—
The orange blossoms' sweet perfume—
Ah! was it not a blissful dream?


This poem is in the public domain.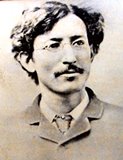 Timothy Thomas Fortune (1856 – 1928) was born into slavery in Marianna, Florida. Nine years old when the Civil War ended, he attended school when he could, worked in print shops, where he developed an interest in journalism, and briefly studied law at Howard University. He started his first newspaper at the age of 20, moved to New York, where he launched The New York Globe and, by 1887, was considered the foremost black journalist in America. An activist who campaigned tirelessly for African American rights, his passion and organizational skills ultimately led to the formation of the NAACP. Sadly, he was plagued by depression and alcoholism in the last half of his life, but he continued working as a poet, author, and newspaper editor until his death. His home in Red Bank, New Jersey is on the National Register of Historic Places.
jamvan:
Thankyou for this lovely poem and I am amazed he has not been more celebrated.
Posted 08/02/2021 04:20 AM
Anastasia:
Another wonderful poem, from another poet I'm glad to have learned about! Thank you, Jayne!
Posted 07/22/2021 03:23 PM
pwax:
Thanks again, Jayne, for bringing a little known poet to our attention. Thanks also for the bio.
Posted 07/21/2021 10:57 AM
richard.cary@att.net:
Ah... a poem!!!!!
Posted 07/21/2021 10:06 AM
Darrell Arnold:
Mocking birds were part of my life when I lived in northern Texas. What magnificent actors they are! I can remember new song after new song, all from the same bird. Mr. fortunes elegant rhymes take me back. I really like this one.
Posted 07/21/2021 09:57 AM
DavidTookey:
Stunning fourth stanza. Beautiful!!
Posted 07/21/2021 09:55 AM
KevinArnold:
Yet another great JJF find; the bio as enticing as the poem.
Posted 07/21/2021 09:50 AM
michael escoubas:
Elegant poem, whose spirit would not be lifted after reading this?
Posted 07/21/2021 09:39 AM
cork:
...and then there was the caged bird singing.
Posted 07/21/2021 08:56 AM
wordartdjc:
A beautiful poem that makes one take more advantage of what we have right before us, the loveliness of nature. I admire him and his life story.
Posted 07/21/2021 08:52 AM
Larry Schug:
This poem is one more lesson in (not)stereotyping others. A common misconception, I think, is that people of color, Black people in particular, so often portrayed as urban dwellers, have little appreciation of the environment or nature or "the feathered poet singing".
Posted 07/21/2021 07:48 AM