Russian Giants were our favourites -
they could top ten feet
with flowers to match
and a big broad smile that was designed to catch
undivided attention.
To us, they were
parhelions, sun-trackers who
aspired to be
centres of yellow excellence.


© by Neil Leadbeater.
Used with the author's permission.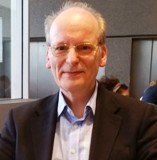 Neil Leadbeater began writing poetry after a 33-year career working for the National Health Service in England, and then in Scotland. He says he writes poetry "in celebration of the amazing world in which we live" and because he believes it can be a positive power for good. Author of nearly a dozen books, his work is widely published, anthologized, and translated. Neil enjoys languages, music, gardening, walking, art, and anything to do with the natural world. He lives in Edinburgh, Scotland; learn more about Neil here.

jamvan:
I'm smiling
Posted 08/02/2021 04:22 AM
Lori Levy:
"Centres of yellow excellence"--great line.
Posted 07/22/2021 11:45 PM
Jo:
Beautiful, Neil. The Russian Giants would be my favorite too. Love the North Dakota fields of sunflowers.
Posted 07/22/2021 11:29 PM
Janet Leahy:
Love to see fields of sunflowers follow the sun, yes to their "yellow excellence."
Posted 07/22/2021 10:46 PM
Anastasia:
A lovely word painting! Thank you, Neil!
Posted 07/22/2021 03:22 PM
michael escoubas:
This poem is certainly demonstrative of you purpose in writing poetry, Neil . . . it celebrates "the amazing world in which we live"! Well done!
Posted 07/22/2021 10:17 AM
KevinArnold:
Who could not think of Van Gogh? https://en.m.wikipedia.org/wiki/Sunflowers_(Van_Gogh_series)
Posted 07/22/2021 10:06 AM
Jccjccac@aol.com:
I keep thinking- your poem honors their bright smiling faces. A pleasure to read.
Posted 07/22/2021 09:26 AM
cork:
How do sun-trackers differ from sun-worshipers?
Posted 07/22/2021 08:59 AM
Rob:
"Parhelion" is a great word and image in this poem! Lovely!
Posted 07/22/2021 06:43 AM