Some people think itís charming
How my woman loves her farming
But to me it is alarming
So much garden work to do

The sun is softly shining
And Iíd rather be reclining
By the river, fishing-lining
With a nice cold drink or two

My work she is directing
What I do she is inspecting
Some accepting, some rejecting
ďYes, of course,Ē is all I say

Complying with her prodding
I keep working, I keep plodding
In agreement, I keep nodding
I have learned to just obey

Afternoon and day is waning
Thunder rolling, soon be raining
But I darn sure ainít complaining
Iíll just go and take a nap

Down it comes, oh, how itís pouring
But I never hear the roaring
Through it all I keep on snoring
Cat is purring on my lap


© by Darrell Arnold.
Used here with the authorís permission.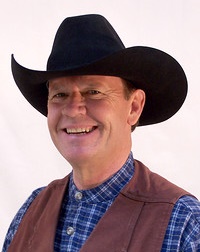 Darrell Arnold has been writing poetry for more than forty years. He was an associate editor at Western Horseman magazine for five years, then launched his own publication, Cowboy Magazine, which ran for nearly eighteen years. Poetry, primarily cowboy poetry, was an integral part of both publications. In the early '90s, Darrell started turning his poetry into songs and has now had more than 20 poems recorded by various western singers; two of them have earned song-of-the-year" awards from Western Writers of America and the Western Music Association. Darrell continues to write poetry and has extended an open invitation to cowboy singers everywhere to team up with him to make more memorable songs. For details and special pricing on his books, contact him at P. O. Box 3097, Colorado City, AZ 86021.

Anastasia:
My husband and I each have our own parts of the yard to tend, just the way we likeit saves so much discussion! Thanks for the fun poem, Darrell!
Posted 08/06/2021 02:12 PM
jamvan:
Fabulous cowpoketry!
Posted 08/02/2021 04:24 AM
Lori Levy:
Like the humor in this poem.
Posted 07/24/2021 01:54 PM
Janet Leahy:
She directs, inspects, and rejects, this is so much fun to read, and so true to life in a nice easy manner.
Posted 07/24/2021 12:16 PM
richard.cary@att.net:
Such a pleasure reading good words!
Posted 07/24/2021 11:30 AM
Buzz_Dryver:
Aint love grand ! Great and safe words to live by ! Thanks for sharing Darrell it was a honor to work with you, even if it was a short tenure
Posted 07/24/2021 09:29 AM
cork:
The pleasure is in reading this aloud.
Posted 07/24/2021 09:08 AM
Darrell Arnold:
Thank you dear folks for the attaboys. I appreciate it. I also do so appreciate Jayne for allowing an old buzzard like me an opportunity to have fun with old-school rhyme and meter and present it to you on her wonderful forum.
Posted 07/24/2021 08:58 AM
Jancan:
This one has me smiling! It's descriptive, entertaining, and very skillfully written, with great rhyme and meter and a smooth flow.
Posted 07/24/2021 08:45 AM
michael escoubas:
Nicely done, Darrell! Like your rhyme-scheme and the gentle cadence featured in this poem.
Posted 07/24/2021 08:29 AM
Larry Schug:
Gotta go along to get along, as they say. I totally agree with Rob and Kevin's comments.
Posted 07/24/2021 08:09 AM
Rob:
Ha ha!Made me laugh. Guess when one person in a household gardens, everyone does, though not everyone likes the rain for the same reason :)
Posted 07/24/2021 07:35 AM
KevinArnold:
Fun. Love the unusual rhyme scheme. Darreii makes his own rules and follows them.
Posted 07/24/2021 06:46 AM