Long after the sun
Has climbed over the ridge,
And the morning chores are done,
The horses are grazing quietly
And the dogs are asleep
In a shady spot.
A hawk is making lazy circles
In an empty sky
As a gentle breeze nudges
The old weathervane,
And the farm relaxes
To enjoy the calm
Of a warm summer day.


© by Bob Kimberly.
Used here with the authorís permission.
†
†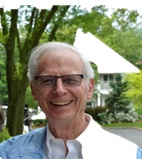 Bob Kimberly grew up in Wisconsin, then spent time in Western North Carolina and Massachusetts before ending up in the Pacific Northwest. After retiring and downsizing from a horse farm to a small backyard with one bird feeder, he joined a creative writing class seventeen years ago to keep busy. Since then, he has self-published four books of poetry plus annual chapbooks used as Christmas presents for family and friends.
Anastasia:
Smmmer afternoon, when it's too hot to do anything except just beyou've captured it well, Bob!
Posted 08/06/2021 02:10 PM
Wilda Morris:
I agree with Michael and Lori. Such a calm poem - as if all is well with the world.
Posted 07/28/2021 12:45 PM
Lori Levy:
Peaceful scene.
Posted 07/25/2021 03:02 PM
michael escoubas:
"Tranquility" is what I feel reading this fine poem, Bob.
Posted 07/25/2021 08:48 AM
Mer:
Lovely!
Posted 07/25/2021 08:37 AM
Rob:
Great sense of calm and peace!
Posted 07/25/2021 08:35 AM
bbatcher:
Echoes of Oscar Hammerstein
Posted 07/25/2021 07:38 AM