I rush around
then—what?!
on my glass door
 
lead-pane wings
electric nattering—
 
You are alive!
neither hawk
nor mosquito—
 
anorexia in whispery black—
is that your brain?—
 
I stare intrusively
 
inquisitively at your skinny legs
2 top, two athwart, 2 aft
finest silk wings no Japanese silk
finer, emergent beauty fluttered
forth from our summer lawn
into this cumbersome world
 
same light, same night, same CO2
 
Do you see me back?


© by Grace Hughes Chappell.
Used with the author's permission.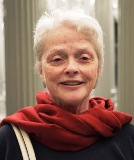 Grace Hughes Chappell says, over the years, she's been a mom, a daughter, and a sister, has taken care of 'things' (house repairs, car repairs, relationship repairs), worked as a private tutor, an English teacher, a travel agent, a receptionist, a telephone book delivery-person, a house cleaner, a reader to the visually impaired, a caterer, a snow-shoveler, and she has written. Her work is widely published and she is the author of ten mile creek almanac. Grace lives in northern California near the Eel River, where she and her husband maintain a garden and an apple orchard. Her advice for a good life is be as kind as you can be (and maybe a little more than that), enjoy your family and your friends, don't be a drag (laugh a lot, sing, dance, do anything that involves music), read a lot, learn to cook a decent meal, watch sunsets and birds and dogs, and—last of all—find something to do for which you have some aptitude. "You don't have to be a genius," she says, "just work!"


Lori Levy:
Provocative poem and bio.
Posted 07/29/2021 11:34 PM
Wilda Morris:
Well done! I enjoyed the poem - and learned from it.
Posted 07/29/2021 07:41 PM
Arlene Gay Levine:
Bravo, Grace! Your communion with Nature and wise advice make a fine poem and a joyous life. Loved "emergent beauty fluttered forth from our summer lawn into this cumbersome world"...
Posted 07/29/2021 12:01 PM
wordartdjc:
Good thoughts, Grace. It seems that you have a peaceful, yet productive happy life.
Posted 07/29/2021 10:46 AM
michael escoubas:
Thank you, Grace, for painting this obscure creature with the brush of words. You give us much to think about.
Posted 07/29/2021 08:50 AM
Larry Schug:
An adventurous, outside the lines write!
Posted 07/29/2021 07:55 AM
Rob:
Love the moment of discovery at the beginning, the great descriptions, and the end query! Fun and lovely!
Posted 07/29/2021 06:06 AM