Now, she says.
and so we go,
tossing toothbrushes in a bag
and commitments out a window
as we escape
en route to healing.
Destination doesn't matter;
it's the contact that counts.
We've healed in
posh places and plain,
spread out and huddled up.
What matters is the laughter.
What matters is the love.
What matters is the
indefatigable bungee-cord of caring
that pulls us back from the brink
time after time after time after time.
One can get through
anything
with friends.

From She of the Rib: Women Unwrapped (2006).
Used here with permission.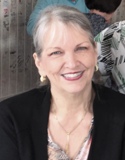 Jayne Jaudon Ferrer is the author of five books of poetry and a nonfiction book about games. Her latest publication is Poems to Lift You Up and Make You Smile, an anthology harvested from the many wonderful poems featured on YourDailyPoem.com and scheduled for release this summer. Jayne, who created YourDailyPoem.com 12 years ago, speaks frequently at churches, schools, and writing-related events and her work has appeared in hundreds of publications. When not writing or reading, she enjoys music, old movies, gardening, hiking, and good conversation. A native Floridian, Jayne has lived in Greenville, South Carolina, for the past 25 years. Learn more about her at www.jaynejaudonferrer.com.
CamilleBalla:
I love the spontaneity and of course the special friendship and laughter that is so healing. Thanks, Jayne.
Posted 08/09/2021 12:47 PM
Wilda Morris:
Wonderful poem. I especially like "indefatigable bungee-cord of caring." What a great metaphor.
Posted 08/02/2021 09:13 AM
tiddles:
Bungee-cord of caring! That's one terrific image. Thank you for all you do to get meaningful words of poets out to the world. Marilyn Z.W.
Posted 07/31/2021 08:25 AM
jayne:
Gosh, y'all. Talk about FRIENDS! I am blessed beyond words; thank you.
Posted 07/30/2021 08:15 PM
TheSilverOne:
Thank you for this website and this wonderful poem? Doris B
Posted 07/30/2021 04:12 PM
ghctenmile@earthlink.net:
Thank you, Jayne, for your poem today. Yet again we are in your debt for YDP, 'the' friendly venue for our (and your!) work.
Posted 07/30/2021 03:27 PM
Janet Leahy:
The last three lines of this poem are magnificent thank you for this lovely gem.
Posted 07/30/2021 01:38 PM
Anastasia:
"indefatigable bungee-cord of caring" is a wonderful description! Thank you so much for your friendship of words on this website, Jayne - being able to visit each day and read a lovely poem makes such much difference in my day!
Posted 07/30/2021 12:50 PM
Darrell Arnold:
I think all of us who are allowed to contribute to this website consider Jayne to be one of our friends. If we only have the one thing in common, that being our poetry, it is important enough that, through our friend, Jayne, we can share our thoughts and feelings and believe that all of us "care."
Posted 07/30/2021 11:08 AM
Cathy's Sister:
Love the ending!
Posted 07/30/2021 10:15 AM
wordartdjc:
Jayne, you must have 'oodles' of friends and I would like to think that I am one of them. Great poem!
Posted 07/30/2021 09:35 AM
paradea:
"It's always the contact that counts"!! Lots of good stuff in here, Jayne. I like this poem!!
Posted 07/30/2021 09:21 AM
cork:
The "indefatigable bungee-cord" is what saves us all.
Posted 07/30/2021 09:17 AM
Carebear10:
Love this poem, Jayne, especially the bungee cord reference, and the last line. Thx for sharing
Posted 07/30/2021 09:01 AM
Sharon Waller Knutson:
Love this poem. Favorite line: Weve healed in posh places and plain, spread out and huddled up.
Posted 07/30/2021 08:56 AM
bobby:
I've had the same best friend for 63 years. We've helped each other through some dark times, but there have been so many more bright times. Bobby Funderburk
Posted 07/30/2021 08:48 AM
Judy:
Love the truths in your poem, Jayne, and the way you poetically communicate them. Your website is a repository that English (really all) teachers and poetry lovers should know about and utilize!
Posted 07/30/2021 08:45 AM
MLove:
LOVE THIS - tossing commitments out the window!
Posted 07/30/2021 08:44 AM
michael escoubas:
I love to just "pick up and go" -- doesn't matter where, as long as it is with a good friend! How we need this poem today!!
Posted 07/30/2021 08:39 AM
pwax:
Perfect title for this good poem!
Posted 07/30/2021 08:35 AM
bobbi43sml@aol.com:
As I used to tell my tiny staff of the newsletter I edited "ladies, that's a wrap!" You got this of every level , Jayne. Thank you Bobbi
Posted 07/30/2021 08:17 AM
Larry Schug:
"Now", the first word in this poem and "Destination doesn't matter" are, to me, the keys that unlock this poem.
Posted 07/30/2021 08:04 AM
Rob:
Great image/concept in the "bungee cord of caring"!
Posted 07/30/2021 07:40 AM
bbatcher:
Great metaphor: indefatigable bungee-cord of caring/that pulls us back from the brink/time after time after time after time.
Posted 07/30/2021 07:23 AM
Jccjccac@aol.com:
So true in my life too. Thank you for putting it into words.
Posted 07/30/2021 07:11 AM
r1manchester:
some good thought here. nice poem.
Posted 07/30/2021 06:07 AM
ladyleo191:
Thank you! This is perfect forme today and I am going to keep following this advice.
Posted 07/30/2021 05:17 AM