I have Queen Anne's Lace at my house,
knee high in the ditches,
opening and closing with the rise and set.
 
It is a gentrified version  
of its prairie cousin, behaved,
uniform so as not to outshine
 
the neighbors, clover, thistle, dandelion.
But oh! the prairie lace stands regal.
Mother Nature's tatting grows tall
 
among the grasses, the coneflowers and Black-eyed Susans,
swaying together in summer air,
perfect royal wave in the breeze.


© by Sara Sarna.
Used with the author's permission.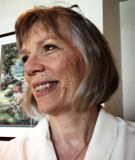 Sara Sarna lives in southeastern Wisconsin and says she collects most of her poems "from the trees in the woods," although she has lately fallen in love with the prairie. Sara has pursued various careers in the course of her life, including being a teacher, a bank manager, and a healthcare employee, but her favorite endeavors have been that of actor and poet. Sara's chapbook, Whispers from a Bench, is a collection of work inspired by the trees and trails of Wisconsin state parks.

Anastasia:
What a lovely image, painted in words!
Posted 08/02/2021 03:53 PM
Wilda Morris:
I love the royal wave from a rural roadside, but Sara, you are free to come pull the beautiful lace out of my garden plot it is trying to take over! Good poem.
Posted 08/02/2021 09:12 AM
Lori Levy:
Great poem about the "prairie lace."
Posted 08/01/2021 02:11 AM
Jo:
You write words as a painter. Lovely visual, Sara. The Queen waves in WI today.
Posted 07/31/2021 11:12 PM
Janet Leahy:
Yes, the queen stands tall and waves today as I walk near the roadside. Love this poem and Queen Anne.
Posted 07/31/2021 05:26 PM
cork:
Our great basin rye grass grows to heights of seven feet to dwarf its competition and wave royally.
Posted 07/31/2021 09:04 AM
paula:
a lovely picture, Sara
Posted 07/31/2021 09:00 AM
bobbi43sml@aol.com:
Wow Sara! I will bet not many of us still remember what "Tatting " is all about. Such a perfect metaphor. I can see the lacy handkerchiefs my grandmothers both worked whenever I see a "royal wave" now. Thank you
Posted 07/31/2021 07:34 AM
Rob:
I'll think of that "royal wave" next time I see wildflowers blowing in the wind!
Posted 07/31/2021 07:12 AM