August is a messy month
    With skeeters, flies, and fleas,
With thunderstorms and gale alarms
    And weeds up to your knees.

The mercury climbs up the tube
    And tempers start to snap.
Spirits wilt like lettuce leaves
    And even lovers scrap.

If I were Augustus Caesar
    Resting in my shroud
And knew this month was named for me
    I wouldn't feel too proud.

First published in the United States under the title Out to Pasture by Effie Leland Wilder.
Text Copyright © 1995 by Effie Leland Wilder.
Published here by arrangement with Peachtree Publishing Company Inc.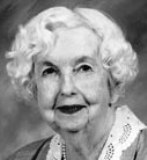 Effie Leland Wilder (1909 - 2007) was born in Rockingham, North Carolina, but lived in Summerville, South Carolina for most of her life. A graduate of Converse College, she married and raised a family, then published her first novel at the age of 85. She went on to write four more. Effie was awarded South Carolina's prestigious Order of the Palmetto in recognition of her philanthropic work with the Red Cross, several libraries, and Meals on Wheels.
Anastasia:
What a fun poem, and an interesting poet!
Posted 08/02/2021 03:53 PM
Wilda Morris:
What a fun poem! Well-written.
Posted 08/02/2021 09:09 AM
KevinArnold:
Great fun.
Posted 08/01/2021 12:53 PM
cork:
This is truly and august poem.
Posted 08/01/2021 10:05 AM
Gilbert Allen:
I especially enjoyed "Spirits wilt like lettuce leaves."
Posted 08/01/2021 09:39 AM
Larry Schug:
Well, at least here in Minnesota, August is the month the deer flies die off. Sweet relief! I think this poem is a classic and, like all good poems, says even more than its words convey.
Posted 08/01/2021 08:32 AM
mail@schoolbusmart.com:
Very cute. Brought a smile to my face. Though not an august one. Randy
Posted 08/01/2021 08:02 AM
Judy:
I have to agree--this poem is great fun from the title through the rhyme to the last line! I am so impressed by her bio--published her first novel at 85, then wrote four more!
Posted 08/01/2021 07:31 AM
Joanleotta@gmail.com:
Great way to start the day and month. Delightful!
Posted 08/01/2021 06:09 AM
Sharon Waller Knutson:
Loved the title, rhyme and humor in this poem. It was funny, uplifting and authentic. August, Schmaugust indeed.
Posted 08/01/2021 05:34 AM