I am going to Home Depot with my boyfriend
to get a dehumidifier for the shop.
He already knows the specs:
how it holds 30 units, uses 8.6 kilowatt hours.
I have no input. I follow him
into the smell of sawdust and lumber.
It makes me wish I knew how to build things,
what I would do with a band saw.
 
We pass the scaffolds of storage shelving
and notice a bird fluttering in the rafters.
"Poor thing," he says. In that moment,
I imagine him as Snow White.
The bird swoops down from a slump
in darted flight, lands on him
 
and then comes home with us. It wants to learn
how to weld, will repay with music lessons.
Practice, it sings, every day, vocalizing
to Verdi in the shop that night,
perched on my new fore plane
while I try my hand at truing the surface
of a plank, while the little ribbons
fall to the floor like miniature scrolls.
 
I offer to keep the strips and reuse them.
Maybe I could build a birdcage,
they could go at the bottom of it.
The bird just trills away.
It says, "Don't do anything like that; like you,
I already have everything I need."


This poem first appeared in Dark Matter: A Journal of Natural Metaphor (Winter 2016/2017).
Used here with permission.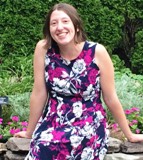 Rebecca O'Bern lives in Coatesville, Pennsylvania with her husband, Elias, and a backyard view that includes many tall trees and several horses. She received her MFA in creative writing in 2017 and currently serves on the editorial staffs of The Southampton Review and Mud Season Review. Rebecca's poems have appeared in a number of journals. When not writing, she enjoys drinking hot tea and reflecting on the work of great thinkers and innovators throughout history. Find her on social media at twitter.com/rebeccaobern.
Janet Leahy:
Beautiful poem, I've seen those birds up high in warehouses, now I'll think of this poem when I see one. I just want to read this again and again.
Posted 08/02/2021 08:28 PM
Anastasia:
Wonderful advice from a bird!
Posted 08/02/2021 03:54 PM
Lori Levy:
Very imaginative.
Posted 08/02/2021 03:12 PM
Glen Sorestad:
I love that beautiful shift at the end of stanza two, when the poem embarks into the playful and metaphorical, Very well done!
Posted 08/02/2021 10:46 AM
Sharon Waller Knutson:
Being a storytelling narrative poet myself who uses alliteration, this poem was my cup of tea. I loved the casual conversation style, and how the bird teaches the speaker what matters in life. Lovely story.
Posted 08/02/2021 10:36 AM
michael escoubas:
Unique poem, Rebecca . . . love your originality! Who would have thought of the relationship combinations you so vividly express?
Posted 08/02/2021 09:19 AM
Wilda Morris:
Good one! I'm glad the bird won't be caged!
Posted 08/02/2021 09:08 AM
Larry Schug:
I really like the bird's reaction, a gentle reminder to think more than one step forward.
Posted 08/02/2021 08:13 AM
Joan:
I love that you have the bird come home with you
Posted 08/02/2021 06:52 AM
Rob:
Love the happy vision for the bird! instead of worrying, I'll remember your poem the next time I see one!
Posted 08/02/2021 06:40 AM