So you say you're tired
and not much interested in
struggling with the imponderable anymore,
ideas like what does it all mean anyhow?

You wonder: where can I find the peace
my life is missing; in which place or way or time
doing what activity with whom for which reason?
The questions become manacles.

So you decide to put one foot in front
of the other (sort of like you've always done)
and just live your life, every instant, breathing
out and breathing in, doing what comes to hand.

A moment will arrive while you're walking,
cooking, showering, maybe falling asleep
after a busy day without questions when
your mind becomes the pond on a calm afternoon

and the aching in your chest takes off like the
squadrons of wild geese in formation in the fall
when all natural things know exactly the right
moves for that particular instant in time.

Perhaps it is the purple hour approaching dusk
and the evergreens slide into silhouette
while the edges of the hills gently soften
into the sky and you think, "So, I see..."


From Movie Life (Finishing Line Press, 2011).
Used here with permission.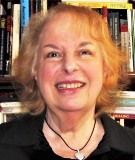 Arlene Gay Levine is an award-winning poet, author, and educator who lives with her husband in New York City. Her prose and poetry have been published in The New York Times, more than 30 anthologies, and in numerous literary journals. Arlene is the author of 39 Ways to Open Your Heart: An Illuminated Meditation (Conari Press,) and Movie Life (Finishing Line Press). Learn more about her at http://www.arlenegaylevine.com.
paradea:
What a way to go!!!! I love this poem!!
Posted 08/03/2021 07:51 PM
Janet Leahy:
Love "the purple hour approaching dusk" that is indeed a magical time of day.
Posted 08/03/2021 05:06 PM
Arlene Gay Levine:
My thanks, YDP friends, for your kind comments!
Posted 08/03/2021 04:21 PM
Anastasia:
So very relatable! The images are lovely as well.
Posted 08/03/2021 03:27 PM
Lori Levy:
Beautiful images and insights. Great poem.
Posted 08/03/2021 02:02 PM
Adriana:
A lovely poem, especially like lines 19 and 20 for their sharp truth, and 23 and 24 for their evocative imagery.
Posted 08/03/2021 11:49 AM
Wilda Morris:
Wonderful image of the geese rising off your chest!
Posted 08/03/2021 09:57 AM
KevinArnold:
Starting with its title, boldly reaching outside of the English language, a luscious poem. Brava.
Posted 08/03/2021 09:21 AM
michael escoubas:
Can't think of a better devotional to begin the day, Arlene. Thank you.
Posted 08/03/2021 08:49 AM
Sdavis:
The color imagery in the last stanza is especially nice,
Posted 08/03/2021 08:40 AM
Larry Schug:
I especially like the third stanza--the decision not to decide, just do, is also a state of heightened awareness. Much to ponder in these words.
Posted 08/03/2021 08:16 AM
Sharon Waller Knutson:
Love the metaphors, alliteration and awareness in this poem. The last stanza says it all.
Posted 08/03/2021 08:09 AM
Rob:
Love the "aching..takes off like the squadrons of wild geese". Great image and vision!
Posted 08/03/2021 06:44 AM