After the acrylic by Stan Stolt

It is first light
his favorite time of day
when the world is still
save for a twig-snap
by an awakening deer
or the slap of a beaver's tail
yonder where the stream
bends and eddies into a pool.

Day emerges softly,
mosses, ferns, and wildflowers
perfume misty air with
breathless spices anointing life
in one unrepeatable moment
when man and Nature become
a single being—a warmth, a light,
a power, wrapped in Nature's shawl.


© by Michael Escoubas.
Used with the author's permission.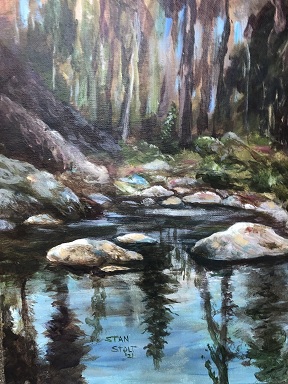 Original Acrylic by Stan Stolt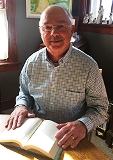 Michael Escoubas began writing poetry for publication in August of 2013, after retiring from a 48-year-career in the printing industry. He writes poetry because, early in life, his mother encouraged him. Michael also writes poetry because he believes poetry brings people together and that poets are menders of broken things. Michael is the author of five collections--Light Comes Softly, Monet in Poetry and Paint, Steve Henderson in Poetry and Paint, Little Book of Devotions: Poems that Connect Nature, God, and Man, and his most recent, Images: A Collection of Ekphrastic Poetry.
Stan Stolt began pursuing painting on a serious basis after retiring from a 43-year career as an elementary school teacher in Sacramento, California. Inspired as a child by his sister's love of drawing, he now specializes in watercolor and acrylic.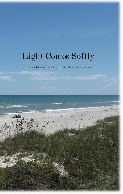 Janet Leahy:
How lovely to read "wrapped in Nature's shawl." This poem settles something inside me, thank you.
Posted 08/05/2021 07:10 PM
michael escoubas:
Friends in poetry: I appreciate each of your kind comments and observations below. So many blessings bestowed!
Posted 08/05/2021 06:30 PM
Anastasia:
Lovely words and lovely painting! THis is a much-welcome moment of peace in a hectic workday. Thank you, Michael!
Posted 08/05/2021 01:51 PM
Arlene Gay Levine:
Michael, both your poem and the painting invite us to a place and time so flowing with serenity and wonder and awe, I know I will visit often.
Posted 08/05/2021 01:40 PM
Jo:
Beautiful poem, Michel. What a way to open my computer this morning. I sit back and read your poem again. Thank you.
Posted 08/05/2021 01:12 PM
Lori Levy:
Beautiful, peaceful poem and painting.
Posted 08/05/2021 12:14 PM
paradea:
I love ekphrastic poetry. This is a lovely poem and painting.
Posted 08/05/2021 11:06 AM
KevinArnold:
To a novelist, the third-person hint was refreshing.
Posted 08/05/2021 10:05 AM
Wilda Morris:
Beautiful! What a wonderful atmospheric poem with which to start the day, Michael.
Posted 08/05/2021 10:04 AM
cork:
Save and yonder and unrepeatable are lovely words.
Posted 08/05/2021 09:05 AM
DavidTookey:
The last three lines form a beautiful ending to a wonderful poem. Thank you Michael.
Posted 08/05/2021 09:03 AM
peggy.turnbull:
Thank you for using the word "yonder." It evokes both time and place held in suspension to me, which makes me feel that I just might, if lucky, stumble upon it myself someday.
Posted 08/05/2021 09:02 AM
Larry Schug:
A beautiful pairing of word and image. I think the felling you want to get across to the reader comes through clearly and ever so gently.
Posted 08/05/2021 08:39 AM
Sharon Waller Knutson:
I love this beautiful sensuous poem and painting. The title is perfect and I feel calm and creative as I sit beside the stream and hear a twig snap, the slap of a beavers tail further in the stream. I smell the perfume of mosses, ferns and wildflowers and feel the warmth and see the light as I am wrapped in nature's shawl.
Posted 08/05/2021 08:29 AM