He arrives each morning
in his soccer uniform
spiffy-neat and ready.
I am his ride to camp.
 
He sparkles, shower fresh
hair all gel-spiked,
cheeks aglow, sunburst red
from the day before.
 
He giggles and dances,
performing the moves
he is learning. I ask
their names…jiggling,
jitterbug, insider…
he smiles as over and over
he demonstrates.
 
On our ride we talk
of the day's heat, ways
to protect from its wrath.
He only smiles and says…
I need to get used to it.
I'm going to be a military man
and it gets very hot in Iraq.
 
I think…cram your pockets full,
my sweetie…full of all these
wonders that fill you up now,
then take them out one day
when the world looks wilted
and you are most hungry.


© by Merle Hazard.
Used with the author's permission.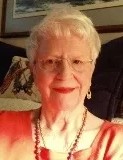 Merle Hazard lives in Macon, Georgia. Her poems have appeared in a number of secular and inspirational publications. A home health and hospice nurse for many years, she worked as a director of programs as well as at bedsides. Now retired, Merle enjoys reading, walking, playing bridge, feeding the birds, her garden, and spending time with friends and family.
CamilleBalla:
Very nice poem making lasting memories of and with your grandson. So well crafted with your wisdom seeping through.
Posted 08/09/2021 12:32 PM
Lori Levy:
Great depiction of a child at 10 and his dreams.
Posted 08/06/2021 05:19 PM
Anastasia:
The whole poem is wonderful, but that las verse - I am in tears. Thank you, Merle, for this beautiful moment in my day.
Posted 08/06/2021 02:00 PM
Larry Schug:
It shocked me the way the poem changed from youth to adulthood, from a scene of tranquility to one of potential danger. And what a wise ten year old. These transitions very skillfully done with a minimum of verbiage and with unspoken sentimentality (the best kind).
Posted 08/06/2021 08:32 AM
michael escoubas:
How nice being reminded of these childhood delights! Do we ever outgrow the need for these? Thank you Merle!
Posted 08/06/2021 08:32 AM
bbatcher:
Love the final stanza!
Posted 08/06/2021 07:12 AM
Rob:
Lovely description of childhood and an adult perspective of it!
Posted 08/06/2021 06:45 AM