When August days are hot an' dry,
When burning copper is the sky,
I'd rather fish than feast or fly
In airy realms serene and high.

I'd take a suit not made for looks,
Some easily digested books,
Some flies, some lines, some bait, some hooks,
Then would I seek the bays and brooks.

I would eschew mine every task,
In Nature's smiles my soul should bask,
And I methinks no more could ask,
Except—perhaps—one little flask.

In case of accident, you know,
Or should the wind come on to blow,
Or I be chilled or capsized, so,
A flask would be the only go.

Then I could spend a happy time,—
A bit of sport, a bit of rhyme
(A bit of lemon, or of lime,
To make my bottle's contents prime).

When August days are hot an' dry,
I won't sit by an' sigh or die,
I'll get my bottle (on the sly)
And go ahead, and fish, and lie!


This poem is in the public domain.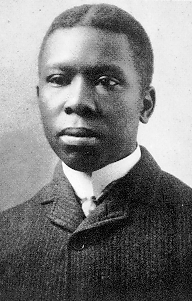 Paul Laurence Dunbar (1872-1906) was from Ohio. He wrote his first poem at the age of six, was editor of his high school newspaper, and published his first book at twenty. His writing attracted attention from the very beginning, and Paul became well-known in both America and around the world. Like James Whitcomb Riley, who was a fan of his young contemporary's work, Paul wrote many of his poems in dialect. Besides a dozen books of poetry, Paul wrote four short story collections, five novels, a play, and the first Broadway musical ever written and performed by African-Americans. A tremendously successful poet whose work was being published in all the major literary publications of his day, Paul's life was cut tragically short by tuberculosis.
Jancan:
Dunbar was GREAT. Good choice for today--so skillfully-written and descriptive, with a lighthearted tone.
Posted 08/08/2021 03:11 PM
Anastasia:
Taking the flask is like having a St. Bernard with a cask of brandy with you in the mountains in winterit's a preventive measure, and certainly not to be tasted otherwise! :-)
Posted 08/07/2021 04:38 PM
carlpalmer:
I like his easy rhythm and rhyme, his wit and confession, Fishermen Lie.
Posted 08/07/2021 11:02 AM
Darrell Arnold:
Terrific. I KNOW he had fun writing this one.
Posted 08/07/2021 08:55 AM
michael escoubas:
Mr. Dunbar's work is superb and deserving of much study. The world must not lose his gift of vernacular poetry in particular. Just as important is the power of his voice not just within the African-American community, Paul Lawrence Dunbar, speaks with authority to ALL Americans. I especially love his gift of fun and fishing that fits so perfectly with the season.
Posted 08/07/2021 08:15 AM
Cathy's Sister:
Fun summer poem!
Posted 08/07/2021 07:49 AM