these two, slow-riding
a clown-tiny bicycle
up my gradual hill, one
 
slightly larger, pedaling,
swaying over the seat,
the other lock-kneed
 
astride the rear tire, feet
fixed to steel axle pegs,
his two hands holding
 
the bigger boy's hips above
the pistons of his thighs.
Meanwhile, their happy
 
chatter, which I can hear
but not quite make out,
goes on nonstop even when
 
the pedaler's left slip-on
slips off and the smaller,
touching down on the run,
 
retrieves and positions it
to slip back on. Seamless,
like a two-man bob-sled
 
crew, except to resume
an ascent, they regroup
and push off, wobbly
 
then steady as before, and
vanish around the corner
toward the convenience store.
 
Or maybe they're best friends,
like Jimmy and me, in'63, him
pedaling, me hanging on.

 
This poem first appeared in Talking River Review.
Used here with permission.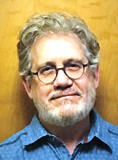 D. R. James lives in the woods near Saugatuck, Michigan, where he and his wife, psychotherapist Suzy Doyle, road cycle the backroads along Lake Michigan. D. R. has taught writing, literature, and peace studies at a small college for 36 years and was a late-bloomer to writing poetry, starting at nearly 50. Since then he's published 9 collections, the most recent being Flip Requiem (Dos Madres Press, 2020) and Surreal Expulsion (Poetry Box, 2019). D.R.'s micro-chapbook, All Her Jazz, is free, fun, and printable-for-folding at Origami Poems Project.


D. R. James:
Thanks to all for your encouraging--and insightful--comments. D. R. James
Posted 10/04/2021 10:48 AM
Wilda Morris:
Wonderful picture of teamwork and of childhood friendship, whether brothers or not.
Posted 08/16/2021 04:38 PM
Lori Levy:
Great portrayal of the boys on the bike.
Posted 08/14/2021 05:03 PM
Anastasia:
A shared experience for so many of us as children! Your description is perfect!
Posted 08/14/2021 04:20 PM
paradea:
What wonderful flow and description!!! Love this poem!!!
Posted 08/14/2021 11:18 AM
Jancan:
Vividly descriptive and expressive!
Posted 08/14/2021 09:23 AM
Sharon Waller Knutson:
Love this charming photographic poem. My favorite line is: Or maybe theyre best friends, like Jimmy and me, in63, him pedaling, me hanging on.
Posted 08/14/2021 08:53 AM
MaryLeeHahn:
I was right there. Such a crystal clear small moment.
Posted 08/14/2021 08:24 AM
Rob:
Awesome description/image! Captures that moment (and the memory) so well.
Posted 08/14/2021 06:46 AM