When first light calms blue-swept night
and cool dawn erases  
yesterday's heat.   

Morning reminds us that night
is a fragment, and summer
swelter is brief.   

Blue flowers color the day
in dew-filled grass. We find
ourselves in song.
    
We are made for the morning.       
Starting over is something     
we should get right.


From Sunlight & Cedar (Chicago: VACPoetry, Hedgehog Press, 2020).
Used here with permission.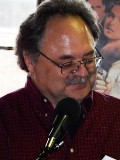 Ken Hada is a professor at East Central University in Ada, Oklahoma. Author of eight books, the latest being Sunlight & Cedar, he was raised in the rural Ozarks and enjoys hiking, flyfishing, and kayaking. Ken's work has received awards from Western Writers of America, the National Western Heritage Museum, The Writer's Almanac, and the Oklahoma Center for the Book. He hosts a weekly podcast, "The Sunday Poems." Learn more about Ken at www.kenhada.org.
Wilda Morris:
Beautiful images. What a strong ending!
Posted 08/16/2021 04:36 PM
sapphocated:
fabulous imagery!
Posted 08/15/2021 07:43 PM
Anastasia:
"blue-swept night" is a fabulous phrase!
Posted 08/15/2021 04:27 PM
Lori Levy:
Love how the blue flowers "color the day." Great last stanza.
Posted 08/15/2021 03:07 PM
Judy:
Elegant poem with beautiful imagery--wonderful message!
Posted 08/15/2021 01:17 PM
MaryLeeHahn:
I love this so much. Chicory is probably my very favorite of all flowers.
Posted 08/15/2021 11:21 AM
Sharon Waller Knutson:
This charming poem with its catchy title, Chicory in the Ditches, paints a beautiful portrait of a summer morning with blue flowers and dewy grass.
Posted 08/15/2021 10:41 AM
Jancan:
Uplifting, lovely, and expressive
Posted 08/15/2021 08:08 AM
Larry Schug:
I know I was "made for the morning". So true, we get a new beginning every day. Simple and profound words that say it all.
Posted 08/15/2021 08:00 AM
Rob:
Yes, sometimes when you're immersed in the heat, it's hard to remember how transient it is! Thoughtful and wise!
Posted 08/15/2021 06:46 AM
paula:
I feel the same!
Posted 08/15/2021 05:20 AM