(an excerpt)
Look! the round-cheeked moon floats high,
In the glowing August sky,
Quenching all her neighbor stars,
Save the steady flame of Mars.
White as silver shines the sea,
Far-off sails like phantoms be,
Gliding o'er that lake of light,
Vanishing in nether night.
Heavy hangs the tasseled corn,
Sighing for the cordial morn;
But the marshy-meadows bare,
Love this spectral-lighted air,
Drink the dews and lift their song,
Chirp of crickets all night long;
Earth and sea enchanted lie
'Neath that moon-usurped sky.


This poem is in the public domain.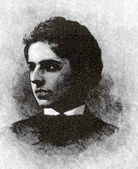 Emma Lazarus (1849 – 1887) was a poet, essayist, translator, novelist, and playwright. Born in New York City, she is best known for her sonnet, "The New Colossus," which is engraved on America's Statue of Liberty. Emma's father, a prosperous sugar merchant, paid to have her first collection of poetry published when she was seventeen. Ralph Waldo Emerson happened upon the book, expressed his admiration for her work, and the two became lifelong friends. Emma worked tirelessly to educate and assimilate Jewish immigrants arriving in America and is acknowledged today as much for her activism as for her writing.
Anastasia:
Such wonderful images! Thank you for this, Jayne!
Posted 08/31/2021 03:16 PM
Wilda Morris:
I didn't have a chance to read this Saturday, but I did see that "round-cheeked moon" in the evening. It was just as the poem says!
Posted 08/22/2021 07:42 AM
CamilleBalla:
I hope I remember to LOOK tonight at the round-cheeked moon. This poem is so inclusive of everything. White as silver shines the seait would be great to be by the ocean tonight. Thank you, Jayne, for sharing with us the info about the full moon and also the interesting background of the poet.
Posted 08/21/2021 10:56 AM
cork:
How did the Tea House of the August Moon get its name?
Posted 08/21/2021 10:23 AM
KevinArnold:
Darrell just might be a long-lost cousin: we agree that the last line, "'Neath that moon-usurped sky," anchors this poem.
Posted 08/21/2021 10:08 AM
Darrell Arnold:
Wow! I read the long version, and am impressed by all the observations of how things look in moonlight. In the piece above, I especially appreciate "'Neath that moon usurped sky." I am assuming "usurped" in this phrase is a three-syllable word. That's what the moon does. It usurps the sky and eliminates competing celestial lighting. I am also impressed by how many logical and varied-sounding rhymes she is able to produce. I like it.
Posted 08/21/2021 09:09 AM
MaryLeeHahn:
"moon-usurped sky" -- exactly what it looked like last night!
Posted 08/21/2021 09:05 AM