I know it is early morning,
     And hope is calling aloud,
And your heart is afire with Youth's desire
     To hurry along with the crowd.
But linger a bit by the roadside,
     And lend a hand by the way,
'Tis a curious fact that a generous act
     Brings leisure and luck to a day.

I know it is only the noontime --
     There is chance enough to be kind;
But the hours run fast when noon has passed,
     And the shadows are close behind.
So think while the light is shining,
     And act ere the set of the sun,
For the sorriest woe that a soul can know
     Is to think what it might have done.

I know it is almost evening,
     But the twilight hour is long.
If you listen and heed each cry of need
     You can right full many a wrong.
For when we have finished the journey
     We will all look back and say:
'On life's long mile there was nothing worth while
     But the good we did by the way.'


This poem is in the public domain.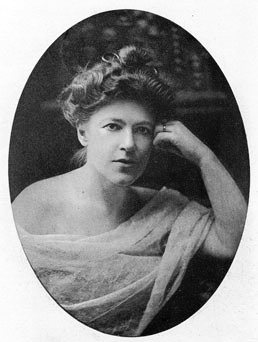 Ella Wheeler Wilcox (1850-1919) was a popular and prolific poet. Published and lauded before she even graduated from high school, Ella preferred to write happy, upbeat poetry and was much beloved for it. More than a dozen of her poems are included in the book, Best Loved Poems of the American People (Doubleday, 2008). The familiar saying, "Laugh and the world laughs with you, weep, and you weep alone. . ." comes from her best-known poem, "Solitude." A morally strong and spiritual person, Ella believed that her purpose on earth was to practice kindness and service. Read more about her here.
Anastasia:
A timely reminder for all of us. I know I am feeling overwhelmed by all that's going wrong in the world, and it's encouraging to be reminded that I can do something to help in the small picture, if not the big picture.
Posted 08/25/2021 01:28 PM
Janet Leahy:
Such a good reminder of what is important in our lives. Thanks Jayne.
Posted 08/22/2021 09:52 PM
paradea:
Love this!!
Posted 08/22/2021 03:13 PM
CamilleBalla:
This is a wonderful poem that speaks to me of taking time in each day for compassion. Thank you for featuring this poem and poet. I realize now that my Dad, with his limited education, read her poems by the quotes he echoed that are here in Ella Wheeler Wilcoxs poetry.
Posted 08/22/2021 02:13 PM
njc:
Wonderful. Thank you.
Posted 08/22/2021 12:00 PM
cork:
I will listen to those who need an audience.
Posted 08/22/2021 09:56 AM
Darrell Arnold:
" . . . For the sorriest woe that a soul can know Is to think what it might have done. . ." That is a powerful line, and one that I can and will memorize and share. I live in a religious community where "keep sweet" is a common phrase. I see many kind acts every day, and they do much to bring a feeling of comfortable satisfaction to many of the people here, myself included. I LOVE THIS POEM.
Posted 08/22/2021 08:55 AM
KevinArnold:
Wonderful poet, wonderful poem. As a guy in the twilight of my life, these lines really hit me:// I know it is almost evening, / But the twilight hour is long.
Posted 08/22/2021 08:52 AM
wordartdjc:
God go with each and every one of us today.
Posted 08/22/2021 08:50 AM
michael escoubas:
In addition to Ella's elegant craftmanship, her message stands out as the most important part of this wonderful post. Thank you Jayne!
Posted 08/22/2021 08:31 AM
Wilda Morris:
A wonderfully inspiring poem. Thank you!
Posted 08/22/2021 07:38 AM