Sapphire and turquoise pools roil
and dance to surfacing bubbles.
Thermophilic algae glaze pool
edges, painting neon streaks of
mustard, rust, and gold.
†
We watch as steam bursts from
earthís crust, rises fifty feet,
dispersing the smell of† Danteís
Inferno. The earth trembles.
We wait and wonder standing
on this fragile cover of natureís
pressure cooker.


© by Norma Wightman.
Used with the authorís permission.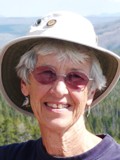 Norma Wightman lives in Morro Bay, California where she walks the beach daily, leads nature hikes in local state parks, and enjoys yoga, kayaking, and birding around the beautiful central coast. Norma's poems, which she says are "inspired by everyday items and nature," have appeared in local publications and art exhibits.
Wilda Morris:
". . . earth's pressure cooker." Yes!!
Posted 08/25/2021 03:36 PM
Anastasia:
Wonderful images! Thank you, Norma!
Posted 08/25/2021 01:21 PM
Jancan:
Vividly descriptive poem with elements of science
Posted 08/25/2021 10:45 AM
Lori Levy:
I feel like I'm there. Great poem!
Posted 08/24/2021 12:51 PM
KevinArnold:
Hard to work Thermophilic algae into a poem, but Norma found a way.
Posted 08/24/2021 10:14 AM
cork:
You took me to Yellowstone.
Posted 08/24/2021 08:59 AM
Larry Schug:
The geographer/explorer in me loves to be taken to a place outside my experience as this poem does. the poet in me appreciates the "texture" in these words.
Posted 08/24/2021 07:18 AM
Rob:
You capture the pools so well with your description--the colors, activity, and smell! Nicely done!
Posted 08/24/2021 06:25 AM