A few faded blooms, fallen fruit, lost love.
This is what I learned from my mother.
~
Bruised apples, beneath the tree, turned
into sauce or, if lucky, pie. A snip of blue bell,
a reddened rose, a daisy with a broken stem.
These were the bouquets of my childhood.
 
Now that I am old, small vases wait
on the shelf above my sink for these offerings.
My time in the garden, often interrupted
by sprigs of flowers needing to be taken inside.
 
A holiday weekend and everyone is away—
my family at the lake; neighbors off camping.
I keep quiet watch along the courtyard,
grateful that all is well. I step onto my patio,
 
wash the tabletop of dust and ash; ready it
for visitors so I am not caught ungracious
should they come. It pleases me to do this.
I like knowing that elsewhere lies summer fun.
 
Here I calmly peel a basket of apples, stew
them up for sauce, then can golden jars for winter.
An old custom that does not fail to please,
does not yet escape my memory.


© by Judith Heron.
Used with the author's permission.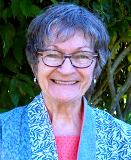 Photo Credit: Mandy Greyling Holmwood
Judith Heron lives in Victoria on Vancouver Island. She has been published in a number of chapbooks edited by Patrick Lane, and in three anthologies: A Murder of Crones (Ptarmigan Press 2007), The Wild Weathers: a gathering of love poems (Leaf Press 2012), and Poems from Planet Earth (Leaf Press 2013). Though she has always lived on the west coast of Canada, Judith cherishes the homestead traditions of her prairie heritage. She relishes the rituals of becoming an elder, which include permission to visit and work in variuos gardens and to spend more time "with the birds."

Stephen Anderson:
I like your focus on things that otherwise may have been overlooked for their worth and discarded due to preconceived notions about those things.
Posted 09/05/2021 05:08 PM
Lori Levy:
Very peaceful.
Posted 09/05/2021 03:20 PM
Janet Leahy:
A gentle poem, and so nice to "remember the old custom that does not fail to please."
Posted 09/05/2021 10:43 AM
wordartdjc:
Truly, such a thoughtful poem. Something that we 'elders' can certainly relate to..Thank you for its sweetness!
Posted 09/05/2021 08:42 AM
Jancan:
A lovely, expressive piece with a tranquil tone.
Posted 09/05/2021 08:32 AM
Larry Schug:
A comfortable and comforting poem, indeed.
Posted 09/05/2021 08:14 AM
Rob:
"The rituals of becoming an elder". Love that! So well depicted in your poem!
Posted 09/05/2021 07:07 AM
joan:
lovely! traditions keep us strong
Posted 09/05/2021 05:30 AM