We raise a glass to those who work,
Who see a need and do not shirk,
Who do not idly watch and stand
But, rather, lend a helping hand

To those who cannot, on their own,
Begin anew to make a home
Of an old house in their new place.
So welcome is each friendly face.

These noble few, a cut above,
†Step up, and, placing hand in glove,
With knowledge, strength, and bended back
and special skills that others lack

Take up their tools and fix and mend
and level, measure, fasten, bend
Until at last, their tasks complete
They gather near to feast and greet

And celebrate all they have done;
Each one is treasured, every one.
To these good friends and family, too,
We raise this toast. May God bless you.


© by Darrell Arnold.
Used here with the authorís permission.
†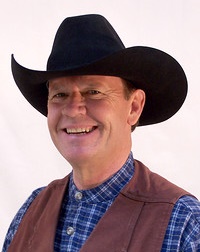 Darrell Arnold has been writing poetry for more than forty years. He was an associate editor at Western Horseman magazine for five years, then launched his own publication, Cowboy Magazine, which ran for nearly eighteen years. Poetry, primarily cowboy poetry, was an integral part of both publications. In the early '90s, Darrell started turning his poetry into songs and has now had more than 20 poems recorded by various western singers; two of them have earned song-of-the-year" awards from Western Writers of America and the Western Music Association. Darrell continues to write poetry and has extended an open invitation to cowboy singers everywhere to team up with him to make more memorable songs. For details and special pricing on his books, contact him at P. O. Box 3097, Colorado City, AZ 86021.
Janet Leahy:
A special poem for special people, they help us in so many ways. Thank you Darrell
Posted 09/07/2021 11:41 AM
Iyc:
Great poem
Posted 09/07/2021 07:05 AM
Lori Levy:
Great toast to these people,
Posted 09/06/2021 03:52 PM
Jancan:
Well-written, rousing tribute to those who make the world turn--by working
Posted 09/06/2021 03:10 PM
KevinArnold:
Darrell, you make me wish we were related.
Posted 09/06/2021 12:09 PM
paradea:
That type of friend certainly is a treasure, and YES, God bless them!! Love this poem!!
Posted 09/06/2021 10:25 AM
Darrell Arnold:
My wife and I acquired the old house she grew up in a different town and state. The place was a wreck. We stripped it down to the studs and started over. Her old friends and family "came out of the woodwork" and put in countless hours helping us make a beautiful home out of it. We could never have afforded to fix it up without them. They are treasured. We are blessed.
Posted 09/06/2021 08:44 AM
Larry Schug:
I dedicate this fine poem to my brother, Mark, who is always there to lend a hand to anyone who needs it, including his handyman challenged poet brother. Thanks for recognizing all these men and women in a fine tribute, Darrell.
Posted 09/06/2021 08:08 AM