I check out big trucks
when they're next to me
at red lights.

Those huge tires, and
every visible part
steel, aluminum, sturdy, intimidating.

The drivers—almost always men—have
sleeves rolled up, eyes looking forward
and windows open (even in the rain).

My brother,
a heavy-equipment mechanic, says:
"Everything's heavy."

Hard work, being in charge of
large, powerful, expensive
pieces of machinery.  

And that notice on the driver-side door:
"DRIVER CARRIES NO CASH."
That's unfortunate.

I like his songs—
especially the ones
about trains.


© by David M. Tookey.
Used here with the author's permission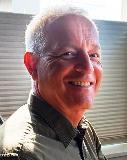 David M. Tookey is a retired elementary school teacher who lives in Seattle, Washington. A bicycle is his main mode of transport around town; David says he finds he can tinker with poems in his head as he rides. He also enjoys creating and sharing organic baked goods, taking long walks with family, reading, and creating quiet space in a big city.
Jo:
I enjoyed your poem. Those big trucks are intimidating on the road. Having a new perspective is much appreciated. I, too, like that last stanza.
Posted 09/14/2021 05:12 PM
Lori Levy:
Interesting perspective and great last stanza.
Posted 09/14/2021 02:04 PM
paradea:
Good one!!
Posted 09/14/2021 12:37 PM
wayne.goodling@yahoo.com:
Thank you. You made me smile!
Posted 09/14/2021 10:46 AM
Larry Schug:
Oh, man! Perfect in the brevity of each stanza, the social commentary of "almost always men" and "DRIVER CARRIES NO CASH", in the wisdom born of the perspective of a brother and his work, and finally, the wit and twist of the last stanza that says as much about the poet as the poem. I'd love to spend an afternoon hanging out with you,David.
Posted 09/14/2021 07:39 AM