It's like my grandmother
is still in the room.
She left me a pet crow
that mimics her sentences
and familiar phrases:
Feed the damn crow!
Who left the door open?
It is illegal to have a wild bird
but I have the papers
to prove this bird's history
is all aboveboard.

But each time I hear its voice
I have to remind myself
that grandma passed away,
that I will no longer go
to her small house for a cup of tea,
no longer hear her crow's nattering
on its perch by her big bay window;
What're ya looking at?
That's a funny looking mailman.


This poem first appeared in The Prairie Journal (2020, issue #73).
Used here with permission.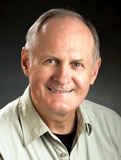 Harvey Jenkins was raised on a small farm in the southwest corner of Manitoba and now lives in Winnipeg, Manitoba. He has been fortunate to travel within Canada, the United States, and overseas. Harvey completed the 800 km Santiago de Compostela pilgrimage and, in 2013, published his book, Haiku Moments on the Camino: France to Finisterre. His haiku and poetry has been published in various anthologies and online sites and he is a member of the Manitoba Writers' Guild and Haiku Canada.
Lori Levy:
Funny and touching.
Posted 09/15/2021 02:27 PM
wordartdjc:
Oh my, I thoroughly enjoyed this poem. Although I never had a grandmother (my parents were orphans) this carefully constructed poem brought a smile to my face today and I needed that!
Posted 09/15/2021 10:47 AM
Larry Schug:
For most of us the crows speaks in our heads voices loud but silent. How wonderful (I think) it would be to have the actual voice of the dead encased in a feathered being. This is a very imaginative and touching poem.
Posted 09/15/2021 08:51 AM
michael escoubas:
A very special person and memory, Harvey. Where would we be without our memories of those who made such vivid impressions on our lives?
Posted 09/15/2021 08:29 AM
Rob:
From the crow's words (and the poem's) we can tell what a wonderful woman grandma must have been--and what a great sense of humor she had!
Posted 09/15/2021 05:43 AM