Every summer,
for as long as I remember
the minute the cucumbers
reached proper size
she'd be there with a bucket,
in housedress and apron
to hose those cucumbers down,
get jars ready and do her magic.
 
I remember the year
when I sat with the family
watching Liberace
on black and white TV.
He played his graceful notes
accompanied by the "pop"
of jars as they sealed.
 
At sixteen when my boyfriend
stopped over Friday evenings,
he always caught her in the thick of it,
the house smelling like dill and brine.
"He'll think I'm a Pickle Packin' Mama,"
she said with a smile.
I'd ride off in his pink Studebaker,
returning later to find
counter tops covered with jars
that glowed like jade.
 
Now, as summer ends,
odors of dill and vinegar
float through my home,
as I fill the jars
and remember.  


© by Doris Bezio.
Used with the author's permission.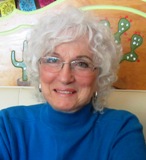 Doris Bezio is a poet, writer, and visual artist whose work has appeared in numerous anthologies and publications. A resident of De Pere, Wisconsin, Doris enjoys skydiving, traveling, and riding a Jeep down old logging trails, often stopping to read or write poetry.
Wilda Morris:
Good poem, Doris! My grandmother did a lot of canning, so I know the sound of that pop!
Posted 09/20/2021 06:37 PM
TheSilverOne:
Thank you for all the great comments! ~ Doris Bezio
Posted 09/20/2021 12:49 PM
Sharon Waller Knutson:
Loved this beautiful sensuous nostalgic poem from its perfect title, Pickle Packin Mams to its unique images like Pink Studebaker. I can see it, taste it, smell it, feel it.
Posted 09/19/2021 08:19 PM
Lori Levy:
I'm not familiar with this experience, but you've brought it alive for me!
Posted 09/19/2021 01:53 PM
Janet Leahy:
Oh yes, I remember it well, the canning could not be interrupted, everything in place and what a treasure it was for those winter meals. Thank you Doris for a lovely poem and golden memories.
Posted 09/19/2021 01:48 PM
Cathy's Sister:
Lovely poem. My mom canned pickles as well as a variety of vegetables. The jars on her pantry shone like stained glass. Thank you for this memory!
Posted 09/19/2021 09:59 AM
tiddles:
Your poem brought back many memories: Studebakers, black and white TV, housedresses, Liberace. My mom was not into canning, but I am and just put up 24 qts. of tomatoes. Love that ping! Thanks, Doris! Nice to see your work here. Marilyn Zelke Windau
Posted 09/19/2021 08:29 AM
Bromcrad:
Love this and your/my memories
Posted 09/19/2021 08:09 AM
Rob:
Love the image of "jars/that glowed like jade"--suggests how valuable this memory is as does the entire lovely poem!
Posted 09/19/2021 07:45 AM