There are things in my closets I canít throw away,
though I have absolutely no use for them:
my fatherís heavy wool Navy uniform from World War II;
the knit bonnets my mother wore as an infant;
my grandmotherís lacy, slim wedding dress,
countless satin-covered buttons down the back;
the pale pink silk shawl with long gold fringe all around
that my sister and I played dress-up with as children;
the mini-kilt I bought in London in 1966, and the
matching kilt I bought years later for my then
four-year-old daughter; the high school sweater,
same green as the kilt; I wore them together for many
Halloweens. Then there are the perfume bottles.
I donít wear perfume, havenít for years. But I canít
get rid of the bottle of Shalimar by Guerlain, the scent
a reminder of fancy-dress dates in college, or the
bottle of No. 4711 Eau de Cologne I bought in Europe in 1966.
The tug of memory is too strong for tossing.


© by Juliane McAdam.
Used with the author's permission.
†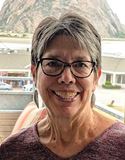 Juliane McAdam is a California native who grew up in the stark beauty of the Mojave Desert. After college graduation, she completed a graduate school program training teachers for disadvantaged areas. Juliane began her teaching career in South Los Angeles in a bilingual program. For the last 27 years of her career she taught English and Spanish to middle school students in Los Angeles, writing poems with them. Now retired and living near Morro Bay on California's beautiful Central Coast, Juliane enjoys walks, kayaking, playing piano, and writing poems to record observations and memories.
MLove:
Just moved. Discarded a lot but held onto way more than I should have. Just can't bear to part with some things. Kids don't want them. I'm hoping for grandkids and great grandkids who one day appreciate these "treasures". PS - LOVE Morro Bay!!!
Posted 09/21/2021 05:16 PM
wayne.goodling@yahoo.com:
Thank you for this poem. By the time I arrived at the perfume bottles, you had pulled me in. And the last line says it all so well. Thank you.
Posted 09/20/2021 11:05 PM
michael escoubas:
I'm passing this poem on to my wife, Juliane . . . who likes to keep things.
Posted 09/20/2021 09:33 AM
cork:
I love the repetition off t's in the last line.Macanudo!
Posted 09/20/2021 08:52 AM